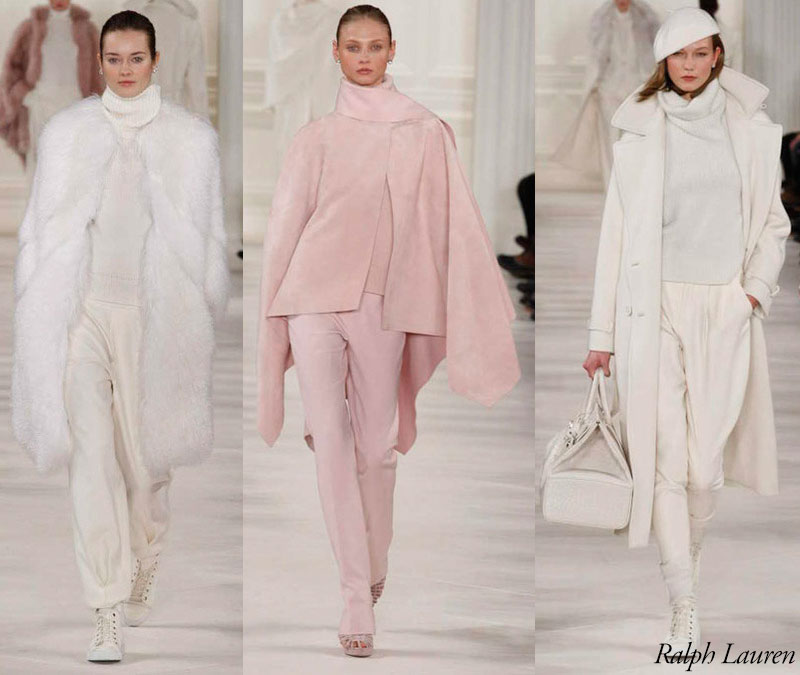 Like the creed of the USPS, neither snow, nor rain, nor sleet, nor hail could keep me from going to Ralph Lauren in the middle of the snowstorm. As a girl from LA, I was very proud of myself, especially since I took the subway and walked six blocks in treacherous weather conditions. This isn't to gloat about my trekking prowess (or diehard commitment to fashion), but to say the journey was well worth it. The show dazzled. Actually, there were two shows.
The double feature took us by surprise, kicking off with Lauren's newly reinvented Polo collection. It was all upbeat music and fun schoolgirl charm with a bohemian, music festival vibe. The lighthearted attitude of Peter Pan collars, A-line miniskirts, and berets jived with the super-bright citrus knits and puffed bombers and Ralph trademarks like Navajo flannels, lumberjack plaids, and prairie-girl floral prints. Lug-sole platform boots and sandals, a feminine riff on rugged hiking boots, hammered the point: the Polo girl is revived, youthful, and in full effect come Fall 2014.
Then it was on to the main event: the sleek, elegant, sexy, and leggy glamour of Ralph Lauren's ready-to-wear line. We were eased in to the calm, soothing collection with whisper-soft capes and ponchos in luxurious cashmere, evident of their plushness from afar. All-white looks made you believe in the snowy beauty and magic of winter, and copious amounts of pale pastel pink look both pretty and confident on the Lauren woman.
The feather jackets drifted by like big, puffy clouds; in lilac and smoky gray, they are gorgeous beyond belief. Thigh-high suede boots increased the feeling of tactile softness, as did cozy turtlenecks in pullover and slinky, ankle-length dress form. Jewel-encrusted embellishments impart some opulence, but the pared-down gowns were the real show-stoppers.
Strapless styles revealed all their movement in their grand exits, the backs showcasing trains, pleats, and billowing silk crepe. Fluid and fine, grace is the name of the game here. The cape theme came full circle with the final look: a deep-V gown and knotted cape of taupe-gray. This number is sure to be spotted on the red carpet in upcoming weeks…though it will be hard to beat Lupita Nyong'o at the Golden Globes.