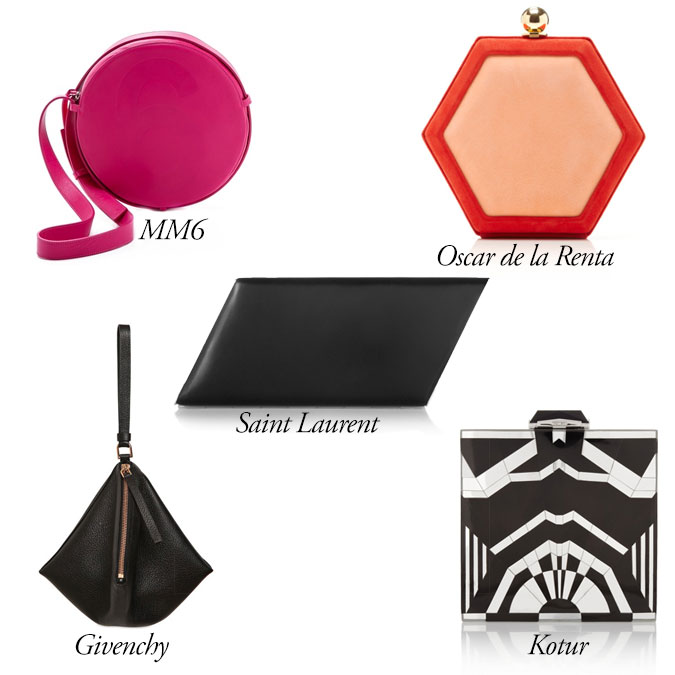 A new movement in bags is literally taking shape. Forget what you've heard about beginner-level geometry; it's a mere trend – nothing more. What was once a novelty concept has now evolved into a staple. Geometric bags in various distinct shapes are both fun and functional. Just keep it to the basics, please. Nothing too complex or complicated. Stick to clean lines, simple symmetry, and a sense of flirty lightheartedness. High school geometry class was never this enjoyable.
1. The Circle: MM6 Maison Martin Margiela Small Circle Clutch

A hot burst of pink is the dot on your exclamation mark – it just has way more enthusiasm than any piece of punctuation. The large size says you're confident. The eye-popping color makes it official: you're beyond bold. On Shopbop for $440.
2. The Hexagon: Oscar de la Renta Hex Two-Tone Suede Clutch

Leave it to the modern master of ladylike dressing to deliver a perky clutch that packs an impact without going overboard. Details like contrasted trim, gold-ball closure, and an optional suede shoulder strap are what make it. On Moda Operandi for $520 (from $1,295).
3. The Parallelogram: Saint Laurent Diagonal Minaudière Leather Clutch

Strong, sharp lines, angles that speak of swift movement, and jet-black smooth leather speak of badass '80s-era style. But think sleek minimalism, not typical excess. On NET-A-PORTER for $1,995.
4. The Triangle: Givenchy Podium Nappa Leather Clutch

A nonchalantly slouchy take on the structured triangle wristlet, this combination of unique shape and thick, pebbled leather makes for a modern take on the hands-free clutch. At Luisa via Roma for $890.
5. The Square: Kotur Rockefeller Mirrored Shell Clutch

This is no ordinary square. Kotur has unapologetically channeled Art Deco glamour and the result is timelessly striking, metropolis-ready cool. On NET-A-PORTER for $1,200.