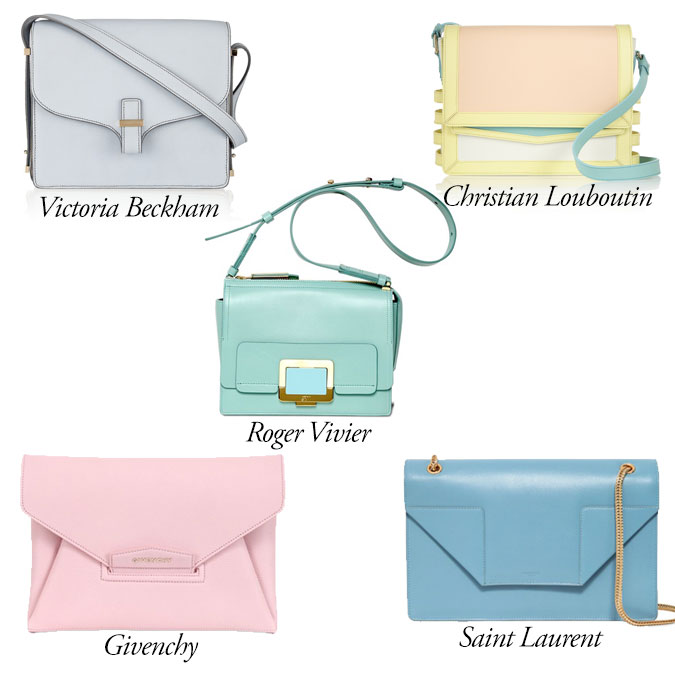 There's no need to wait for Easter to get a basket-worth of sugar-sweet confections. Pastel bags are where it's at this season, even for girls whose daily uniforms consist of black, gray, and more black. A single splash of optimistic saccharine via your new bag doesn't translate to going prissy. It just says you're confident enough to get a little girly every once in awhile. So go ahead and reveal your softer side.
1. Victoria Beckham The Harper Textured-Leather Shoulder Bag: Here's a case where ice blue doesn't translate to ice queen. On the contrary, this cool tone will instantly heat up your transitional spring wardrobe. On NET-A-PORTER for $1,950.
2. Christian Louboutin Farida Leather Shoulder Bag: I love seeing Louboutin's bold Farida all softened up by sherbet-shade makeover. Who needs 31 flavors when four are just right? On NET-A-PORTER for $1,595.
3. Roger Vivier Mini Metro Palmellato Leather Bag:
 With classically glam details and an aqua-mint hue that's just retro enough, the petite Palmellato will have you channeling your inner Alfred Hitchcock heroine in no time. Eat your heart out, Kim Novak. At Luisa via Roma for $2,328.
4. Givenchy Antigona Grained Leather Clutch:
 Givenchy does the best blush pink of the moment. Not too pale and not too saturated, they've achieved the perfect shade of innocence. At Luisa via Roma for $1,240.
5. Saint Laurent Betty 2 Matt Leather Shoulder Bag:
 Razor-sharp lines and finely cut edges are an ideal juxtaposition for a dulcet shade of blue. This Betty has a well-balanced amount of bite. At Luisa via Roma for $1,890.
This post is also available in: Chinese (Simplified) Chinese (Traditional)