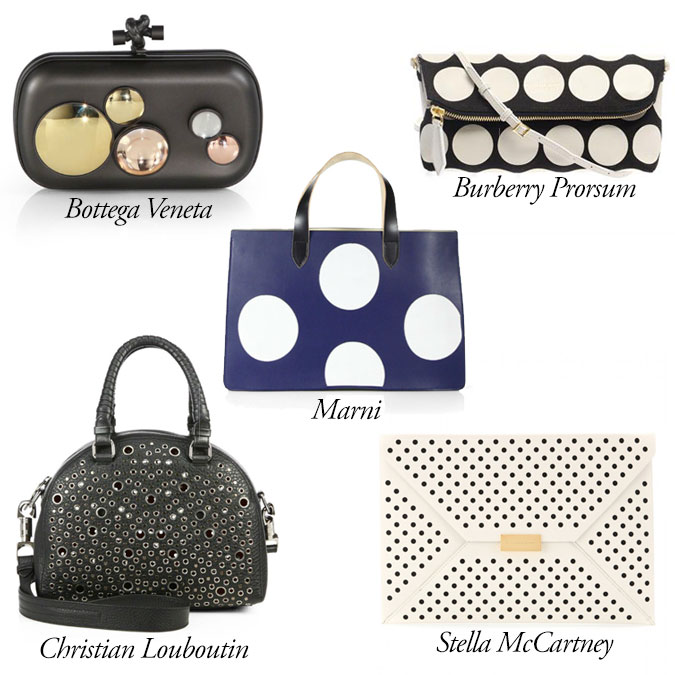 Right now, it's all about polka dots on everything from sundresses to stilettos, but you know I have a special place in my heart and closet for bags. A smattering of spots can serve a real purpose. Take a boring, serious bag and add the right kind of dots – whether magnified, hardware-decked, perforated, or perfectly wacky – and bam! Suddenly you've got something cheerful and delightful for summer.
1. Bottega Veneta Multi-Sphere Mini Knot Clutch: When Bottega's involved, you can bet you'll get some sophisticated dots. They've traded their weave for smooth leather and a cocktail of metallic and crystal spheres. The result is a fun, fresh take on the knotted clutch. At Saks Fifth Avenue for $2,650.
2. Burberry Prorsum Polka-Dot Leather and Canvas Clutch: In leather and canvas, this is unapologetic fun for the summer. In clean black and white, your vacation evenings are taken care of, minimal fuss required. On Matches Fashion for $1,055
3. Marni Polka-Dot Laptop Tote: Hugely oversized spots imbue this one with the most childlike feel of the bunch. For your daily tote, this could be too much of an offbeat statement-maker. For your daily laptop bag, it's a must-have. At Saks Fifth Avenue for $640.
4. Christian Louboutin Panettone Eyelet Bowler: Technically, these aren't polka dots that festoon this bowler bag, but decked in various sizes of grommets, it has the same whimsical result. At Saks Fifth Avenue for $2,195.
5. Stella McCartney Perforated Envelope Clutch: If you haven't found it yet, here's a pouch that really works for you. With the structure of an envelope, the refreshing airiness of allover perforation, and the slender body of a pouch, it's everything. On My Theresa for $903.