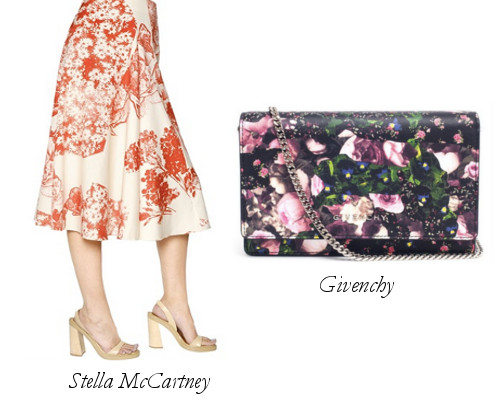 …well, florals at least! Spring is here and with that always blossoms a royal garden's worth of prints and appliqués. This season's are some of the best yet from Givenchy's dark, romantic roses to Kotur's girly, pink petals. Yes, right now it is okay and even desirable to wear your mother's sheets. When done right, the look isn't old lady-ish in the least. Think about it – what's fresher than a bouquet of flowers?
Stella McCartney Silk Toile Skirt:
If you prefer a toned down take on floral print, stick with one in a single hue. Stella's abstract mishmash of daisies and roses offers enough of a visual pop that excess color would be unnecessary. At Luisa via Roma for $1,180.
Givenchy Pandora Floral Shoulder Bag:
This print is a little different from the one we're seeing everywhere, but it's just as on-trend. At Browns for $1,335.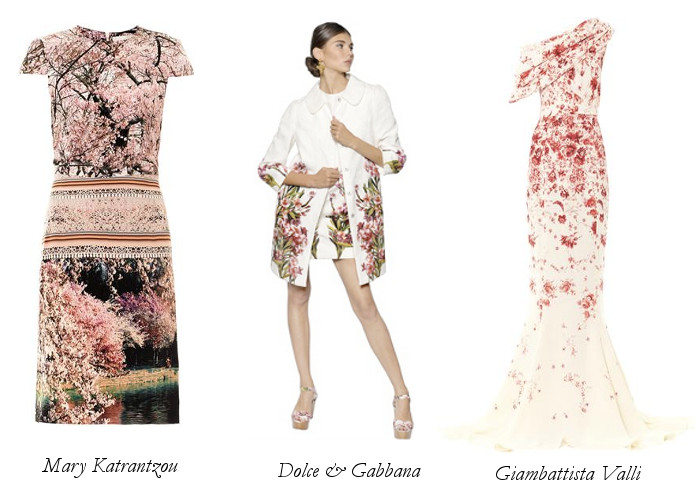 Mary Katrantzou Silver Lake-Print Dress:
A Fall '14 Monique Lhuillier gown had me dreaming of cherry blossoms, and now this Resort Katrantzou (a true piece of art) has me coveting them again! At MATCHESFASHION.COM for $1,411.
Dolce & Gabbana Cotton Silk Oleandro Brocade Coat:
With Dolce & Gabbana, the devil's in the details. Not only is there a gorgeous oleander print – flowers are also woven into a barely visible brocade. At Luisa via Roma for $3,445.
Giambattista Valli Couture Silk Cady One-Shoulder Gown:
A gown with this much movement will make it seem as if petals fall in your wake with every step. At MATCHESFASHION.COM for $19,808.