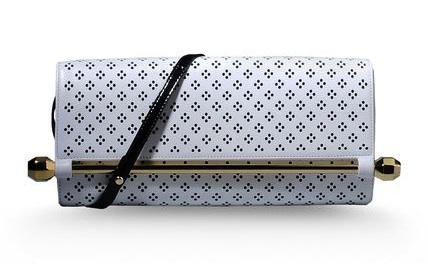 Did anyone else just catch that balmy breeze in the air? What a delightfully fresh summer bag! Sometimes a bag is all it takes to make you feel like a new season is finally in effect, and for me, Viktor & Rolf's eyelet-inspired creation is it.
We've been seeing a lot of this elongated bar hardware as a detail lately, but this feels different from the rest, thanks to the boldly faceted finials. It's highly versatile: utilize the slim strap to wear it over the shoulder, or tuck it in to carry it as a clutch (the slim, east-to-west silhouette is the quintessential clutch shape).
With black accents, à la the gussets, lining, and optional straps, you don't have to doubt this is a transitional piece, not to be strictly reserved for the hottest of summer nights. But it's really about the delicately punched-out print. The perforated leather and spirited design make for the perfect addition to give your warm-weather wardrobe an instant (and possibly early) jumpstart. Viktor & Rolf bag on thecorner.com for $985.
Pair with: Emphasize the sweet details with an overtly feminine eyelet dress, like this white embroidered style by ALICE by Temperley. Just keep your hair slick and your makeup simple and strong to avoid girly overload. On Shopbop
for $515.
This post is also available in: Chinese (Simplified) Chinese (Traditional)