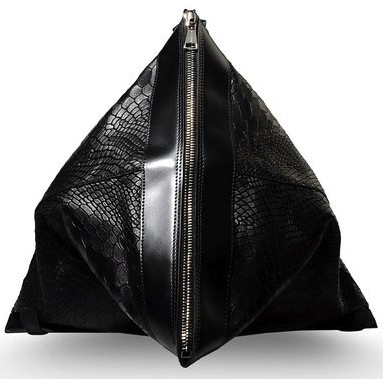 A single glance at this, and I'm reminded of the age-old question: form over function? The best bags encapsulate both in the right measures so you don't even have to pose the query, but then there are bags of the more unusual breed that make me pause and wonder.
I happen to like the spacey, sci-fi vibe of the bag; it's as intriguingly offbeat as it is sharply angular. But I do not see how it can work in my world. The triangular shape means that the zipper hangs basically vertical once the bag is in your hand or on your back. One accidental pull or loosening up of that zipper, and your treasured belongings are splayed everywhere.
No outside pockets mean you're constantly fussing with it anyway, and likely shuffling around. Like a horny guy on a date with his lady friend, I like my bags to be easily accessible (Is that crass? LOL). Call me impatient, but I want to reach in and grab what I need easily. That being said, this is definitely an interesting bag. Andrea Incontri backpack on thecorner.com for $670.
Pair with: At least your feet can remain stable, even if your stuff doesn't. McQ Alexander McQueen's searing yellow and black sandals pack double ankle straps and a mild front platform for ultimate security. On Ssense
for $675.