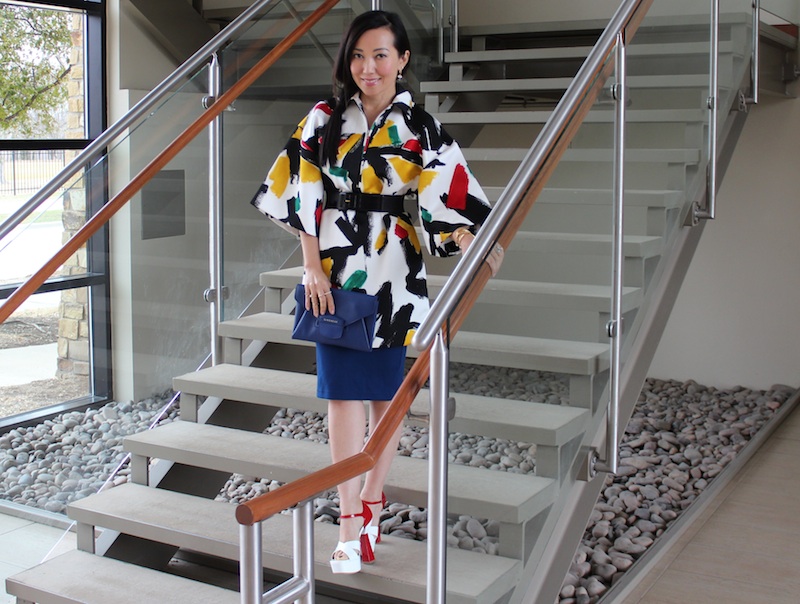 This is an exciting time in fashion: currently, pastels and primary colors, two families that couldn't be more different, are coexisting in harmony and making an equal amount of impact in the trend department.
Naturally, I am enamored with both. It all depends on my mood. Lately, I've been feeling bolder, and primary hues definitely make for a stronger statement. I picked up Céline's runway brushstroke tunic in Paris a few weeks ago and have worn it a dozen times in less than a month. Now I am looking for other art-inspired pieces to spice up my spring wardrobe.
Céline Brushstroke Tunic: This is officially my statement piece of the moment. If you have to ask why, you likely don't have eyes! Inquire for purchase at Céline. Call 305-866-1888 and ask for Doris.
American Apparel Ponte Mid-Length Pencil Skirt: This thing holds everything in, and it makes for the best $42 investment ever. At American Apparel.
Miu Miu Platform Sandals: No matter how hard I try with the single sole, nothing does me as well as a platform shoe. Especially when it's vivacious and two-toned. On Style Drops for $867.
Givenchy Antigona Grained Leather Clutch:
 Classic and high-impact, this is an effortless punctuation piece. Enough said. On Luisa via Roma for $1,240.
Finished off with, an assortment of Fallon rings, Vita Fede bangles, and Delfina Delettrez's Elisabeth earring.
1. Cedric Charles Printed Trousers: This is the ultimate in chic abstraction. The combination of vivid colors and neutral shades makes for a surprising level of versatility. On Farfetch for $493.
2. Marni Dot-Print Cotton-Jersey T-Shirt: Consider these spot-on dots a fun update on the classic white tee. On NET-A-PORTER for $270.
3. MM6 by Maison Martin Margiela Tri-Color Ankle Boots: Count on Margiela to bring an artsy element to the everyday ankle boot. On Farfetch for $565.
4. Pierre Hardy Metallic Leather Shoulder Bag: There is something so irresistible about this mash-up of juicy metallic and refined gray tones. On NET-A-PORTER for $1,695.
5. Delfina Delettrez's Elisabeth earring: So good I had to mention it twice! Delfina's wild imagination makes for a spellbinding earring that will inspire you to try the asymmetrical trend. A stud in the other ear is all you need. On Farfetch for $470.