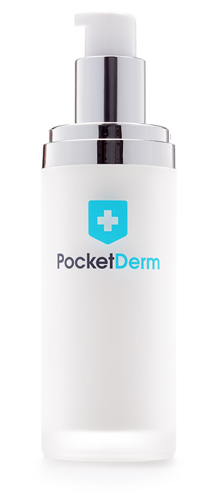 PocketDerm is a new service launching at the end of the month to help men and women with no access to a dermatologist – whether because of money, time, or geographical constraints – to connect with a dermatologist so that they can get help when it comes to treating their acne. Those interested in the service need only to upload a photo and answer a questionnaire, and they will be paired with a dermatologist in their area who will prescribe them oral and/or topical treatments (the oral medication will be called into the patient's local pharmacy, while the topical treatments will be shipped – Accutane is not one of the medications prescribed by the dermatologists participating with the site).
I turned to leading dermatologist Dr. Schultz to get his opinion on the service, as I wondered if this was a safe option. From checking out the site he noted that it seems that the people behind the site have done their legal due diligence and have made it very clear that they are not trying to steal patients away from doctors. This is for people who do not have access to a dermatologist – and with that in mind Dr. Schultz told me that he certainly sees this option as being viable. He was quick, however, to point out that a service like this should be limited to acne. Do not try to diagnose/treat a rash or moles this way. When I asked him how he felt about them prescribing oral medication, Dr. Schultz noted that there are not many options when it comes to pills to treat acne, so there isn't much room for error. He also noted that the dermatologists will not prescribe anything without a clear picture and that again, this is a better option than doing nothing or going to an emergency room/seeing your primary care doctor as neither will put you in touch with someone trained to treat acne.
To learn more about PocketDerm, click click here.