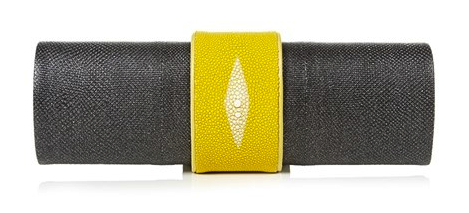 Here's a surefire way to make a neutral piece pop: the juicy infusion of yellow doesn't merely read like a lightning bolt on a classic deep-gray clutch, it's also exactly what the summer calls for. Mark my words: you will be amazed by how wearable and versatile bright lemon yellow is once you welcome it into your palette.
Baraboux, launched in 2013, is the brainchild of Princess Reema Bandar Al Saud, who was inspired by the quick-moving, light-traveling Bedouin tribes that moved across Arabia. It's no wonder this cylindrical clutch has a sleek, uncluttered look that speaks of a quick-paced girl on the go. I love a rolled clutch like this; it fits so perfectly in your hand, becoming a part of you, rather than something to fuss with and eventually tuck under your arm.
Finally, it's the material that makes it. The injection of stingray on the center panel is a beautiful way to introduce texture, while the Italian-made clutch (which happily holds all your essentials) remains versatile and functional. At Baraboux for $1,464.
Pair with: Make it majorly modern in Alexander Wang's trademark shoe of the season. His Manuel polished-leather platform Mary Jane pumps are as fun as they are upbeat in bright white. On NET-A-PORTER
for $860.