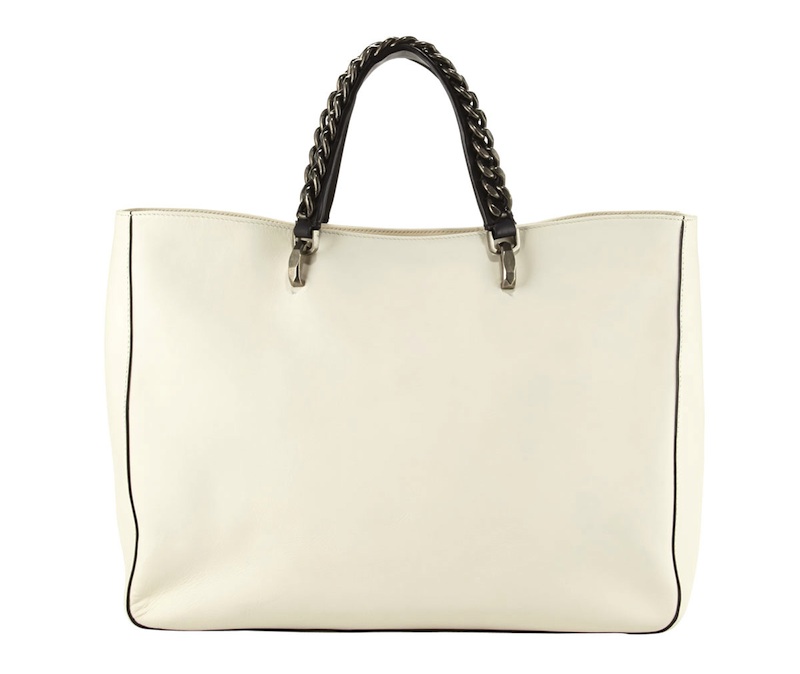 I am loving this cool, new brand. BOYY, the brainchild of Jesse Dorey and Wannasiri Kongman, is exclusively at Bergdorf Goodman for now, but mark my words: this brand is going to blow up. The duo, with backgrounds in both the fashion and music industries, founded the line in 2006 with a collection of beach totes inspired by the 1950s French Riviera scene. Now, dividing their time between New York City, Italy, and Bangkok, they have upped the ante and are headed for major expansion.
Infusing a gritty, downtown vibe with luxurious details and quality, this tote shows that when worlds (and global cities) collide, it can be a beautiful thing. The simplicity makes for easy use, while the handle's inlaid, oversized chains enforce a bit of rocker edge that pumps it up. It's big enough for travel, whether as an overnight, carry-on, or road-trip bag, but for me, it's one of those totes that will become a part of my daily life. I love the freedom to thoughtlessly throw in all my essentials when I'm having a hectic day.
Don't forget to think in terms of seasons when it comes to color: the ivory is amazing for summer, but I have the black for year-round and long-term wear. At Bergdorf Goodman for $925.
Pair with: For easy, edgy days, toss on Theyskens' Theory's semi-sheer silk-chiffon slip dress, layering it over a pair of khaki or denim shorts. On NET-A-PORTER
for $295.