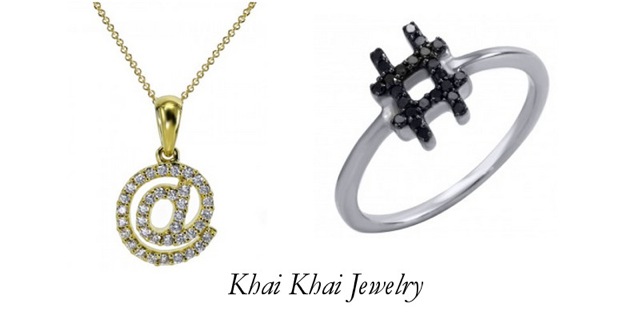 Social media has infiltrated almost every facet of our lives, and that includes our jewelry collections. Forget wearing your heart on your sleeve – now you can wear your Tweets on your sleeve! Well, just about. Whether you're a Pinterest princess or an Instagram aficionado, there's a way for you to show off your online cred. What do you think of the look, though? Would you like these on Facebook, or scroll right past them?
Khai Khai @ Charm: For the queen of social media, only 18k gold and diamonds will do! And it turns out the @ symbol isn't exactly part of a new trend – the sign dates back to 16th century Seville, when it was used as a unit of weight. On Khai Khai Jewelry for $1,100.
Khai Khai Black Dia # Ring: Show that you're trending with a trendy hashtag ring, decked out in dramatic black diamonds. On Khai Khai Jewelry for $600.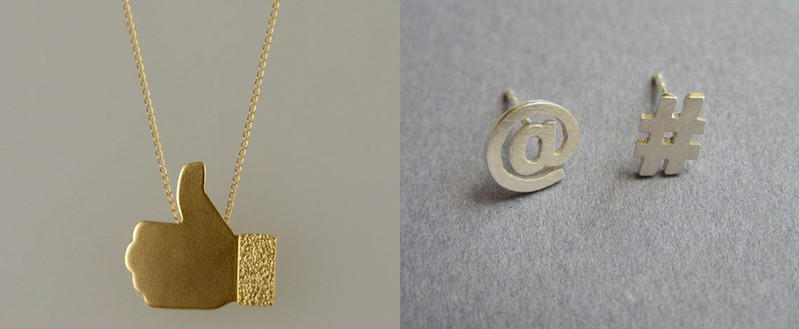 Jools LIKE Necklace: Heart necklaces are officially passé. Now you can express your love with Facebook's signature thumbs up. On Etsy for $55.
Dalia Shamir Twitter Stud Earrings: Then again, as quickly as social media sites pop up, they disappear (MySpace, anyone?). If you don't want to invest big time on your hashtags, pick up these simple studs instead. On Etsy for $35.