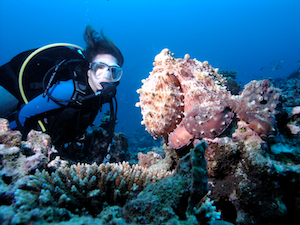 One of the greatest things my grandmother taught me was to live without regrets. This is a woman who lived to a long and happy 98 years, unafraid of anything and enjoying all that life had to offer. She flew to Chamonix in the French Alps at age 88 to hike in the mountains! Before passing on Mother's Day morning after celebrating with family the night before and drinking champagne, my grandmother never worried about dieting or aging, nor did she fear death. After bearing nine children and surviving two civil wars in China, there was not much that could scare this amazing woman. I have always wished to be more like her.
I was paralyzed with fear as a child, afraid of monsters in the dark, of falling down street gutters, even of my own shadow. But she tried to instill in me the idea that there is nothing to fear but fear itself. Which is why I am so excited to partner up with StriVectin to encourage you to live your dreams and face your fears. I still have many fears (including a fear of flying, even though I am on a plane almost weekly!), but I plan to face each and every one of them on my StriVectin #YouthList. A bucket list, if you will, of things I want to do now. What about you? Are you one of those people who fantasizes about plans then never actually follows through? I am, and I think it's time we left our lists at home and went out to live them!
Share your dreams with me on Facebook, Instagram, Twitter and Pinterest using the hashtag #YouthList, and tell us of all of the bold, daring, and fun things you're doing or plan to do! Here's my list…
Deep sea dive in the Coral Reef: I love diving, and this is supposed to be the best place to do it. 12 years ago I got an advanced license and went deep diving at 100 feet and wreck diving in Grand Cayman. I don't know how I had the nerve, but I've got to get it back. It's so meditative to be on the bottom of the ocean with nothing but your thoughts and the marine eco-system floating around you.
Parasail: It's as close to flying as we can get!
Climb the Great Wall of China: I went when I was younger, but was more concerned with taking photos. This time I want to climb as far as I can.
Horseback ride with my son: I have an unnatural fear of horses, but my son loves them. Perhaps it's time I finally tried it.
Dance under the stars in the Mojave desert
Camp in the woods: Really, this is on my son's list. His dreams are mine!