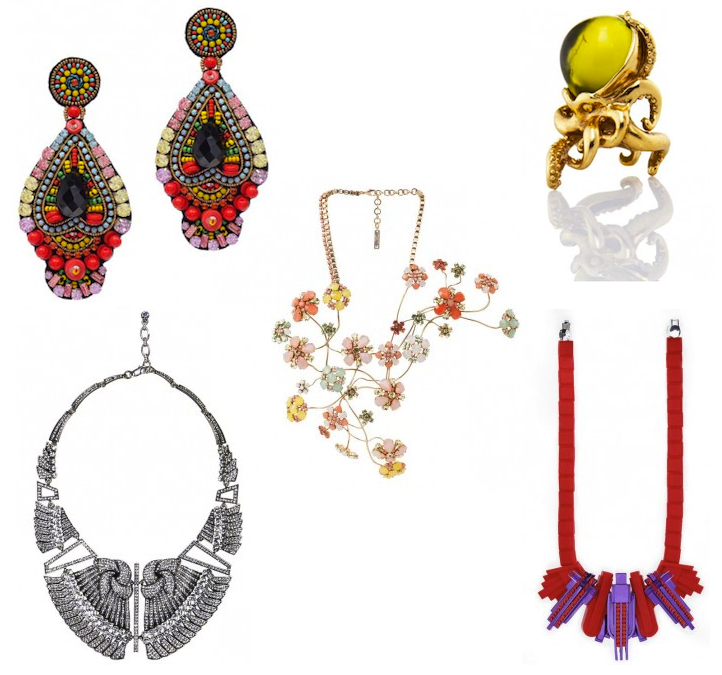 Every season, you should buy a few key pieces that will be your new statement jewels. For me, there's no other place to look than Paire.US. The online boutique carries runway pieces that you cannot find anywhere else – and trust me when I make that statement, I mean it. Once you've acquired your major jewels, you can gradually fill in the blanks with other fun pieces that aren't so striking. But always make it a rule to start by shopping for the stunners that will take you through the season. Here's my core collection for Spring '14:
1. Ranjana Khan Paia Earring ($395): Leave it to Naeem's jewelry-designing sister to take drop earrings to energetic, new heights. Too many colors you say? No way! This spring, you'll be wearing plenty of color and this rainbow cocktail of glass beads and stones will go with everything.
2. Bernard Delettrez Prasorite Octopus Ring ($370): As far as I'm concerned, every beach resort vacation warrants an ocean-worthy ring to go with it. Whether you enjoy deep sea-diving or prefer your critters in the form of calamari, this octopus will win you over. Don't worry: cocktail rings are always allowed to be over-the-top.
3. Azzaro Perce Neige Necklace ($3,110): A statement piece to say the least, this abstract necklace is untamed, uncontained, and beyond gorgeous. Nothing quite says spring like an unfettered explosion of blossoms. You'll be working your entire wardrobe around this to ensure maximum wear in no time.
4. Jenny Packham Orion Necklace ($1,286): The eveningwear queen has translated her soft touch and glamorous aesthetic to the equivalent of a tiara for your neck. For festive nights, this Art Deco-inspired blend of antique-style silver and Swarovski crystals will be your staple forever, not just this season.
5. Ex Thongprasert Dalmaisiana Necklace ($651): How fun is this richly vibrant silicone creation? Architectural, just a tad sparkly, rather reminiscent of a brilliant work of Lego art: this may not be a piece you'll wear long-term, but for now? You'll be the center of attention.