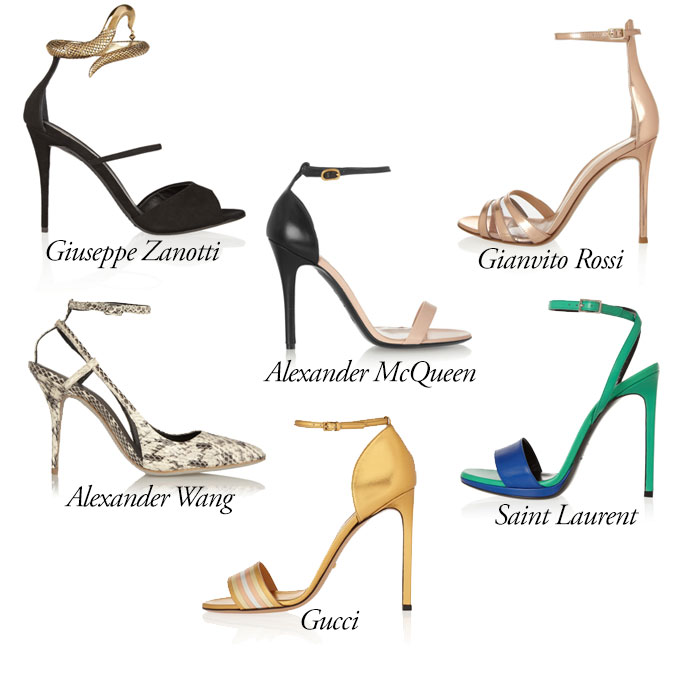 Ankle-strap sandals were once thought to be unflattering, especially for those with thicker ankles. Not to mention the fact that they're assumed to shorten the appearance of the leg, but I have actually found the opposite to be true. If anything, a slender strap topping a revealing sandal has the ability to mask a thick ankle and make your lower legs appear thinner. I just hate fashion rules, don't you? The minute someone tells me I am too short to carry something off, I become obsessed with making it work for me. As for the length, as long as the skirt falls right at the knee or slightly above it (any lower, and the look will be too choppy), it's just fine.
Just make sure the strap you choose is delicate, and the heel is thin and slim. A thick or chunky heel, plus a wide ankle strap is not pert of a winning combination for anyone, unless you're of the supermodel breed. Plus, they make for genius out-all-night shoes, providing a safety belt for your ankles.
Channel your inner Greek goddess with Giuseppe Zanotti's serpent-strapped peep-toes ($1,655), go New Wave with Saint Laurent's color-blocked innovation ($795), get a pale gold rush courtesy of clean Gianvito Rossi ($805) or striped Gucci ($695), or keep it closed-toe with Alexander Wang's elaphe pumps ($695). But it's Alexander McQueen that takes top honors here. Their two-toned sandals ($635) are my favorites for their flattering and über-chic combination of nude and black. All available on NET-A-PORTER.