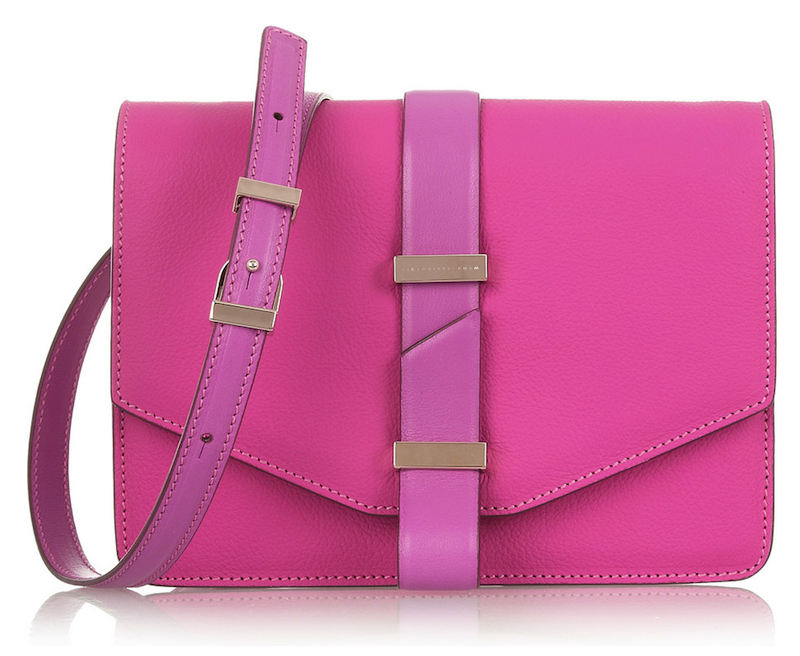 I'm due for a fitting follow-up to my all-time favorite VB bag, the Liberty, and this piercing pink mini satchel is just the piece to add to my collection, for lighter days when a bigger tote isn't needed…and a pop of color is desired.
As a daily shoulder bag, Victoria Beckham's sweet and slender number is as close to perfection as you'll find. She's produced a distinctively streamlined shape (one that we know well from the British designer) with her signature turned-back tab detail; this time it's been amplified by just the slightest amount. While the detail makes for the right degree of emphasis, it's the color that makes this handmade bag so special.
Two subtly varied shades of sherbet pink may not read "daily," but come spring and summer, a fully bloomed burst of color is what you seek – and it's what will make you smile. Of course, if you're more interested in longevity than a bright blossom, opt for a low-risk dark neutral. Either way, this is sure to become a well-loved, high-yield staple. On NET-A-PORTER for $1,250.
Pair with: Take a heel with a flash of not-so-precious metal, courtesy of Prada's chunky open-toe (and open-heel) wrap booties. At just over three inches, you can go strong all day in these. At Bergdorf Goodman for $695.