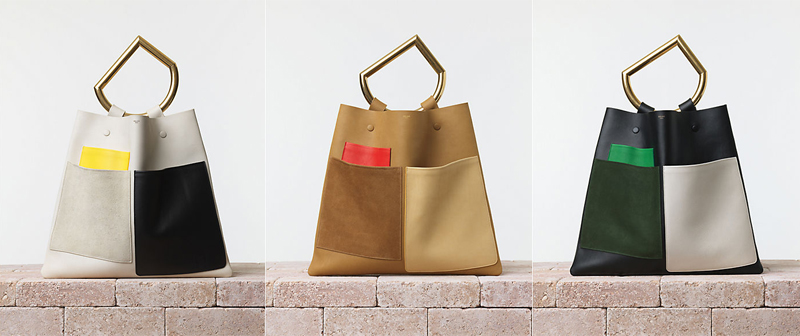 Céline's new summer tote is as unsurprisingly fabulous as it is surprisingly impractical. On second thought, maybe its high level of impracticality isn't so shocking; Céline bags are not exactly known for their functionality.
A flared, triangular shape sets the tone for offbeat appeal, then oversized, asymmetrical patch pockets hammer the point: Céline is currently all about artsy abstraction and cool minimalism. And of course, the cherry on top of this elevated tote is the chic metal handle. It's also what creates a little bit of a headache. Again, the closure is the issue here.
Needless to say, this a one-handle tote. That really cool geometric handle? It's attached to just one side. Therefore, the tote must remain closed or else it flops open, and there's nothing cool about the way that looks. The bag is closed using two snaps that are extremely tight and difficult to unsnap – and even harder to snap together. (Which is necessary, since this is a big tote and the leather's quite thick; flimsier snaps would just come apart.)
The good news is those outer pockets are so roomy and easily accessed, you'll find you don't need to get inside too often. Anyway, the Geometrical bag looks amazing, so as always, girls will go ahead and not hesitate to spend $2,950 on this attention-getter. Then they'll grin and deal with the issues afterwards.
In white, tan, and black. Available at Barneys New York, in stores only.