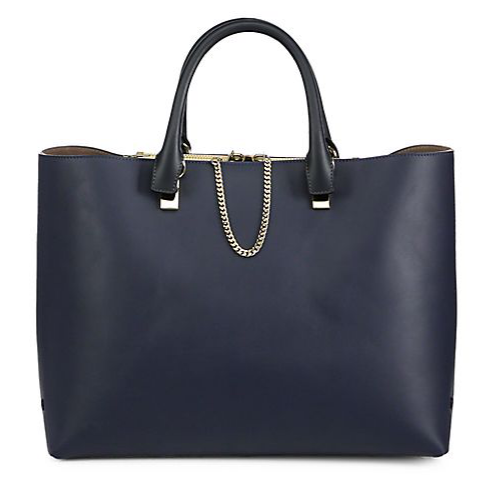 For those of you (and by that I mean me) who love Chloé's Baylee bag
but just can't get over that double-zipper pull (and the inconvenience that comes with it), here is a new rendition that's a total problem-solver. The smooth-leather tote version offers the same look, but the double-zipper detail has been implemented in a way that's easier and more functional by leaps and bounds.
With the Baylee, the zippers are stuck together, thanks to an oh, so pretty chain, yet you have to use them in order to open the bag. One side of the zippers detaches, so you can get the bag open all the way (which requires two hands). Or you can yank it open wide enough with the zippers attached to get most – but not all – of your stuff, but for me, all that hassle is a major turn-off.
This open-top tote sports the same system, but the detail is on the smaller, interior pocket, so you don't have to unzip it that much to access what you need there. And it's not fundamental for actually opening the bag. It just comes with one minor buzz-kill: the dangling chain is only visible, only hangs out if you physically place it on the outside of the tote. Otherwise, it sits prettily on the inside – like a subtle secret for you to enjoy.
In either case, this type of tote is great for daily life and that one small but potent detail is cute enough to motivate you to choose Chloé's over another completely plain tote. Chloé tote at Saks Fifth Avenue
for $1,990.
Pair with: A good maxi dress will help you get through summer. A great maxi dress in neutral black will become a summer staple. Helmut Lang's racer-back jersey dress falls into the latter category. Exclusively on NET-A-PORTER
for $275.