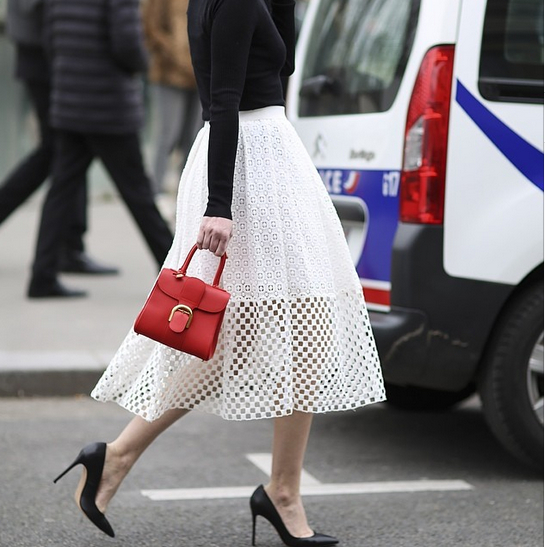 There's hope yet for true elegance on the streets during Fashion Week! It's thanks to the discerning eye of fashion photographer Lee Oliveira and my chic friend Jane Keltner de Valle (the Senior Fashion News Director of Teen Vogue). The inadvertent power duo served up one of my favorite looks from this past season: the shot of Jane breezing across the street in a Tibi skirt with her Delvaux Brillant Mini bag is effortless class all the way.
The bag is impossibly ladylike, but the exaggerated buckle imbues it with a bit of streetwise edge for an ideal balance. Paired with a simple New Look-inspired ensemble, it's red-splashed black-and-white perfection. Best of all, Jane and Lee prove one does not need to dress like a clown or a Muppet to get attention on the streets. The Delvaux Brillant Mini is available exclusively at Barneys
for $3,600.
Take a cue from Jane, and pair yours with a white A-line skirt, à la Alexander McQueen
(on NET-A-PORTER for $1,420), and a simple black pump, like Saint Laurent's sleek, pointed pair
(on NET-A-PORTER for $625).
Photo Credit: Lee Oliveira
This post is also available in: Chinese (Simplified) Chinese (Traditional)