Congrats to C. Boudreau of Saint Clair Shores, MI – winner of the LUXE DH x Fendi giveaway!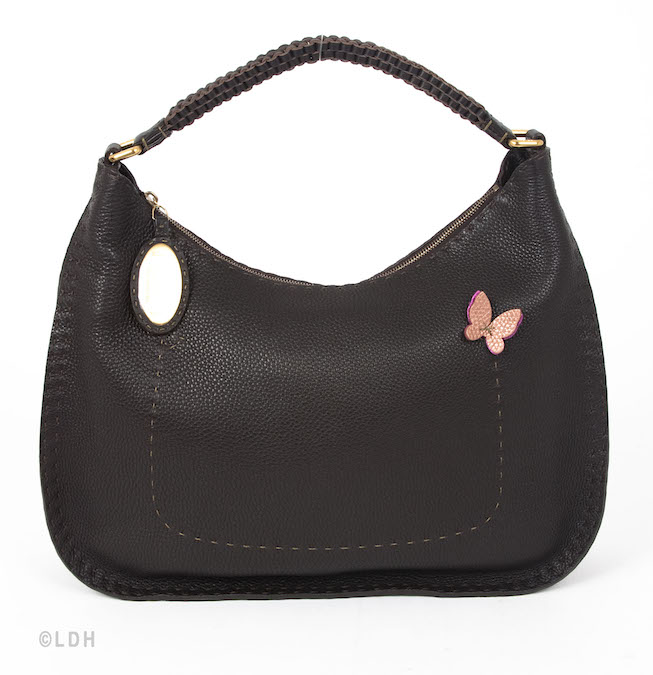 Round two of our LUXE DH giveaway has begun, and this week the object of our affection is a pebbled leather Fendi Selleria hobo (value: $799)! With a petal pink butterfly appliqué, the bag offers a delicate touch of spring to contrast its basic black backdrop. This is perfect for Snobs who want to give a nod to the new season without getting too frou-frou or flowery. As much as I love a trendy pastel clutch, you can't deny that a hobo is what's going to get you from sunrise to sunset with the lowest stress level.
By participating in the contest, you're agreeing to opt in to receive e-mail newsletters from Snob Essentials and our sponsor, LUXE DH. To double your chances, follow their Facebook page or Twitter, the Bag Snob Facebook or Twitter, or the Snob Essentials Twitter. U.S. residents only. The contest will end on April 25th at midnight when a random computerized drawing will select the winners. Good luck to all entering the giveaway!
We still have two more bags to give away after this, so don't forget to check back on Monday for the next little number – a classic Balenciaga. Until then, check out the rest of LUXE DH's Fendi selection here!