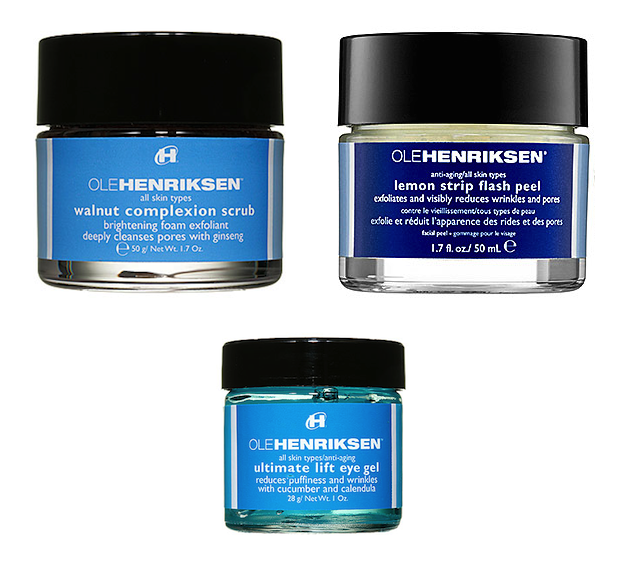 There aren't many products I feel compelled to strong-arm my friends into, but Ole Henriksen (pronounced ooh-la, as in ooh-la-la!) is one of them. While their bestseller is the Truth Serum collagen booster ($48), and I do like the Sheer Transformation moisturizer ($40), neither is a can't-live-without-it for me. The Lemon Strip Flash peel ($48), Walnut complexion scrub ($24), and Ultimate Lift eye gel ($38) are the must-haves! I was given a set of samples, and as soon as I ran out of these three, I headed straight to Sephora.
First on my list was the lemon peel, and believe me, this is serious stuff. It creates a tingling, burning sensation, but nothing harsh enough to keep me away because once you're done, it feels like you've got new skin! I might even skip a couple months of facials. Most at-home peels aren't this strong (or effective), and Ole has an even more powerful peel, aptly named the Power peel ($45), that I'm dying to test out next.
When it comes to scrubs, though, I take a softer approach. I only like to use one bi-monthly, so when I do, it needs to work well. The abrasive action activates melanin production, which exasperates my dark spots (No, thank you!), however this gel-based walnut formula cleanses using a foam. I also make a point to wait until two to three days after the peel. With the duo working together, all of my dead skin cells are gone, and my complexion is as glowing as can be!
Still, my favorite has to be the eye gel. It's much so more refreshing than a cream and absorbs like nothing else. In the morning, the delicate skin around my eyes is plump and moist to the touch, and after just one week, the area is brighter and firmer. I'm never looking back! I just wish all of these came in a value set. To get a deal, I would suggest grabbing the Seven Skincare Sensations pack
($59), and then adding in either the lemon peel or Power peel. Again, I don't say this very often, but I'm saying it now – trust and obey! =) Even just one of these will completely change your skincare routine. Ole Henriksen available at Sephora.