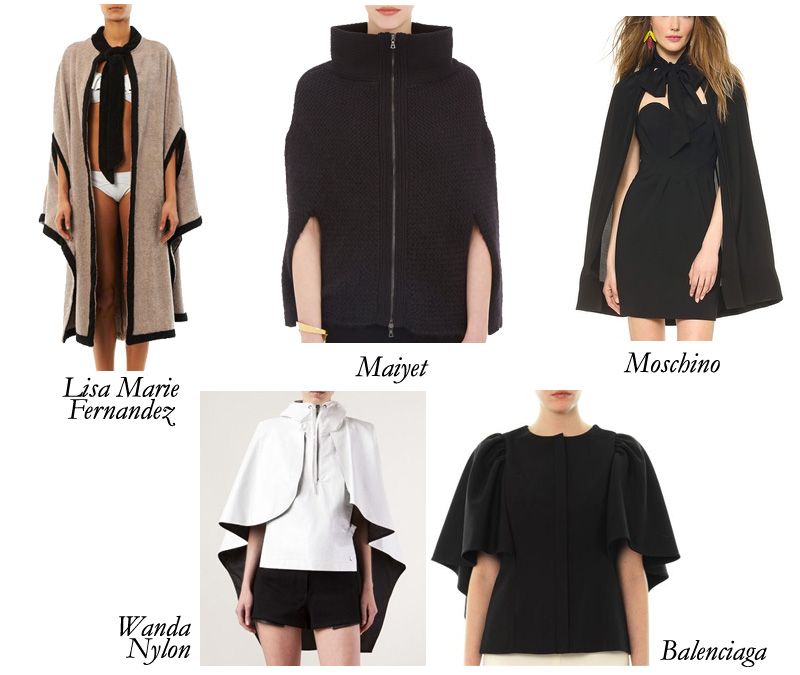 I went to see the new musical Harmony last week, and fell in love with one of the character's capes – a velvet capelet with long straps that went under the arms and tied in the back. Some costumes can only be pulled off on a stage, but these are pieces you can integrate naturally in everyday life, whether you're on the beach, playing in the rain, or out on a Friday night!
Lisa Marie Fernandez Terry Bi-Colour Beach Cape:
A beach towel cape? Why haven't I been using this all along?? The days of awkwardly keeping a towel wrapped snugly around you are gone. At MATCHESFASHION.COM for $395.
Maiyet Basketweave Knit Zip-Front Cape:
This black mohair-blend might be a little hot when it arrives in the mail in July, but it will be your go-to come fall! Pre-order at Barneys New York for $795.
Moschino Heart Dress with Tie Neck Cape:
This is the perfect LBD for chilly spring nights. The all-black dress and cape offer a great chance to accent your outfit with bright, seasonal accessories. On Shopbop for $2,995.
Wanda Nylon Stella Cape:
Another ingenious interpretation of the cape (and an eco-friendly one – this is made of recycled materials). Much chicer than a poncho! Another On Farfetch for $670.
Balenciaga Cape-Sleeve Blouse:
Bring the look into the warmer months with a subtler cape-sleeve. Pair with a tight skirt for a strong silhouette. At MATCHESFASHION.COM for $2,150.