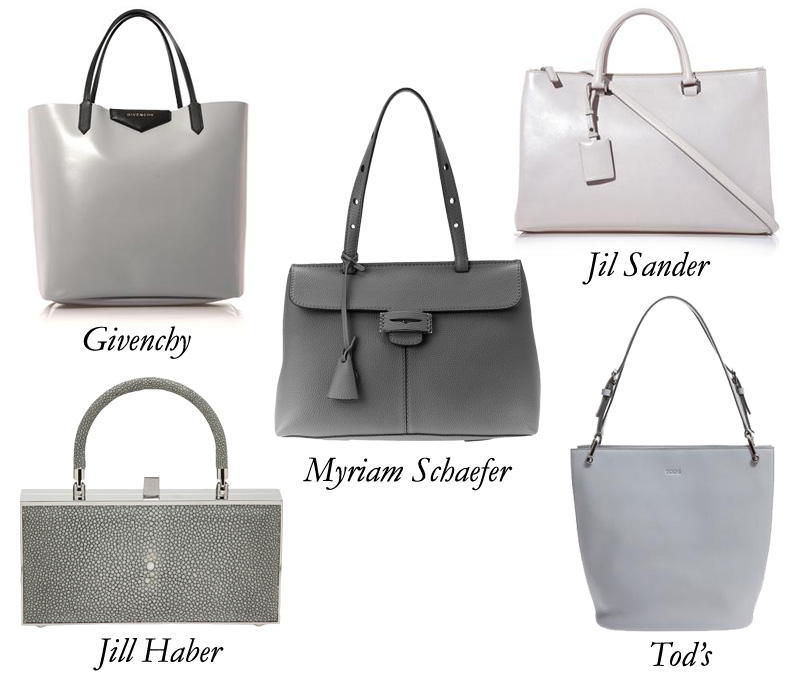 Whether you're going totally casual or out for a luxurious evening, pale gray is color to be in right now – and it's not going anywhere anytime soon. The right shade of gray is always chic and exact. There is such a sense of polish and clarity in wearing steely gray, especially when you do it with utmost confidence. For the warmer months, you ought to consider it your ultimate neutral. And in these classic shapes, you will be able transition beautifully into fall for an investment that will pay off for years to come.
1. Givenchy Antigona Leather Shopper:
You really can't go wrong with classic Givenchy, especially when it's delivered in smooth dove gray with a pop of black for sleek punctuation. At MATCHESFAHSION.COM for $948.
2. Jil Sander Double-Zip Leather Tote:
Jil always seems to nail minimalist chic, and this boxy tote is no exception. Extra points for the super-practical double-zip compartments on each side. At MATCHESFAHSION.COMn for $2,184.
3. Myriam Scheafer Mini Baby Lord Handbag:
The darkest shade of the bunch is guaranteed not to show a speck of dirt. Which will come in handy because this satchel is going to get plenty of use. On Farfetch for $6,050.
4. Jill Haber Niles Minaudière Bag:
A highly contemporary skin like stingray is the perfect exotic for an old-fashioned top-handled box clutch that oozes retro glamour. On Farfetch for $2,125.
5. Tod's Horse Bucket Bag:
Clean, simple, and deliciously neutral, this is one of those bags you'll carry…and carry…and carry…you get the idea. At MATCHESFAHSION.COM for $1,062.