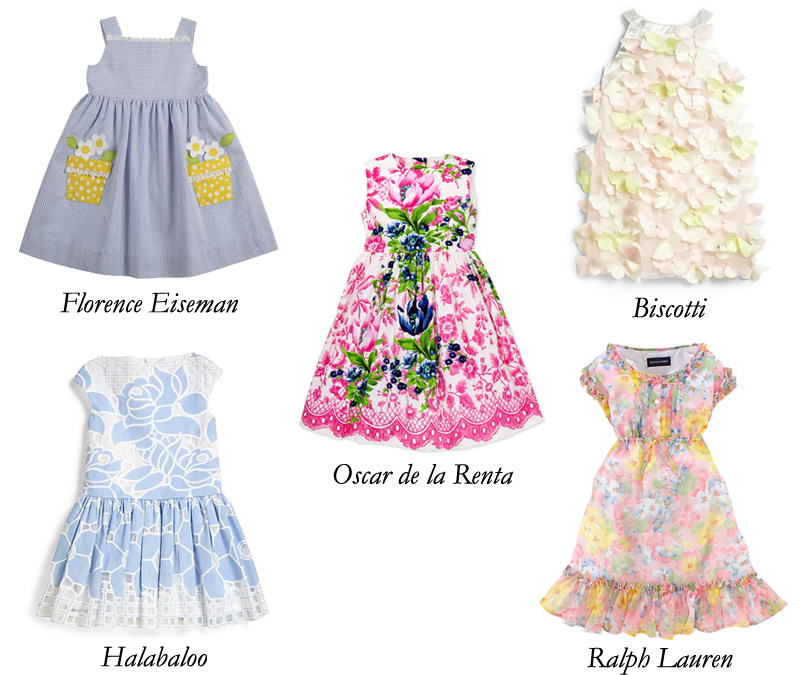 We love to dress in florals for spring, and our tots are no different. Plus, they look much more precious doing it! Big, A-line skirts and fluttering butterflies will make them feel like princesses, and although Frozen mania may be at an all-time high for the under-12 crowd (okay, for everyone – it's so sweet!), they'll jump at any chance to dress up, even if there are no ice castles involved. Which one is your girl's favorite?
Florence Eiseman Girls' Flower-Pot Seersucker Dress, 2T-3T:
As adorable as this is, my girls are no longer toddlers. Lucky for me, I'm an aunty who loves to buy gifts! At Bergdorf Goodman for $86.
Biscotti Toddler's and Little Girl's Butterfly Dress:
They're going to have so much fun with these pastel appliqués. It's the perfect choice to usher in spring. At Saks Fifth Avenue for $124.
Oscar de la Renta Super Pose Flora Party Dress, 2Y-10Y:
Even if you don't have an event to attend, little girls will make an occasion of anything with this on! At Saks Fifth Avenue for $225.
Halabaloo Toddler's and Little Girl's Floral Dress:
Most tot dresses make you ooh and aah at how cute they are, but with mesh insets, this is also very chic and on-trend. At Saks Fifth Avenue for $98.
Ralph Lauren Little Chiffon Floral Dress: The sensible mom in me opts for a sale. The girls will love the flowing watercolor chiffon, and couldn't care less whether it was $50 or 500. At Ralph Lauren for $44.99 (from $59.50).