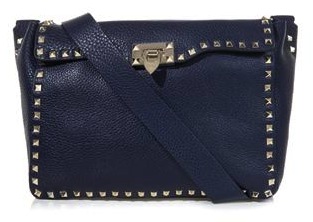 Those looking for a compromise best look elsewhere…and who's really looking for a compromise, anyway? We make concessions and sacrifices when we have to, and when Spring 2014 Valentino has the last word on the matter, you don't have to make either.
I love a good crossbody bag, but I feel like I'm always compromising style on some level to enjoy the great hands-free functionality. And I do love my Valentino rockstud tote, but a somewhat cumbersome top-handle style is not always what the day calls for. Now I can literally have it all: the style, the ease, and the tough-glam factor – and so can you!
The simple flap design is ideal for travel, even if that just means a day on the go, when you need to move fast and don't want to worry about things falling out of your tote. The wide strap ensures a comfortable fit, while the great size is plenty big enough to fit your entire life, and the soft, supple leather keeps the whole thing light (we will happily suffer some extra weight for those studs, though!). Valentino has hit the stud on the head with this one. Act fast. Valentino rockstud crossbody bag at MATCHESFASHION.COM
for $2,395.
Pair with: I usually don't double up on designers from hand to toe, but this slingback espadrille wedge (perfect for running around) flaunts Valentino's softer side, thanks to tonal topstitching. Plus, blue and black is combination I can't refuse. At Bergdorf Goodman
for $575.