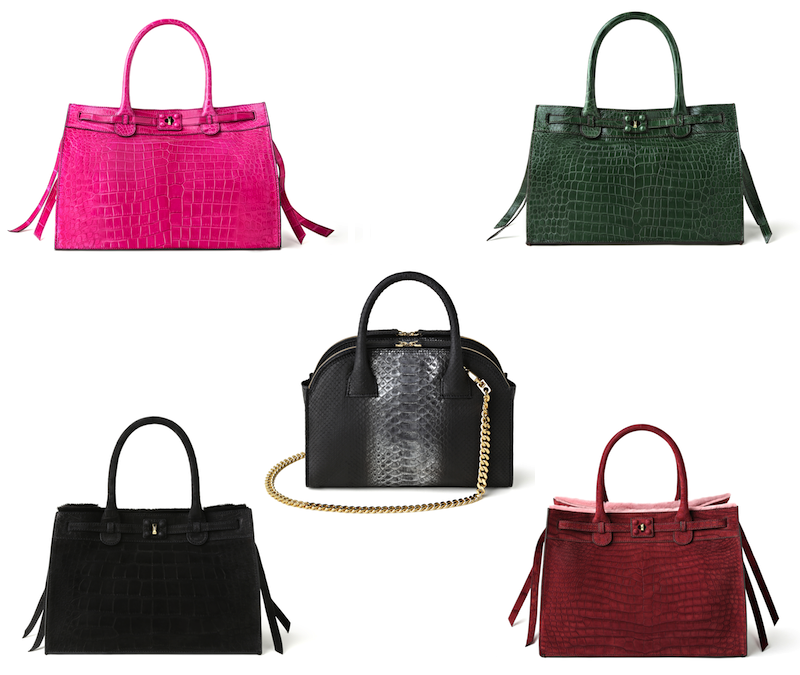 It's been a little while since we've covered a Zagliani bag, and I can confidently say their new Fall 2014 collection is most definitely making me sit up and take notice once again. Recently appointed Creative Director Giorgia Scarpa (formerly of Prada and Dior), now on her third collection for the Italian luxury house, is hitting her stride. As they say, third time's a charm.
Meet the Gatsby and Deva bags. The most all-time classic of tote styles, the Gatsby is as decadent as the name suggests. While the shape and detailing may be of the ages (again, got to give credit to Hermès where credit is due), Zagliani turns the situation up a few notches by setting their tote in the lushest crocodile skin you can find. You can go fully over-the-top by opting for mink lining, but either way, the Gatsby is beyond luxurious. I would probably go without mink for ultimate ease, but naturally, fur lining imparts an added element of excitement. One that proclaims, "I go all out!"
If you prefer to take your python with a twist, it's all about the Deva. In hand-painted skin, the workmanship is clear. In a vintage-inspired shape, where curved lines and hard edges work in harmony, the longevity is understood. And finished with a gutsy gold chain, the sense of modernism is tangible. All in all, this third collection marks the entrance of two stellar bags. Gatsby (glossy pink crocodile, $31,123; glossy green crocodile, $22,781; and burgundy crocodile with mink fur, $32,362) and Deva ($3,484) bags available at Zagliani.