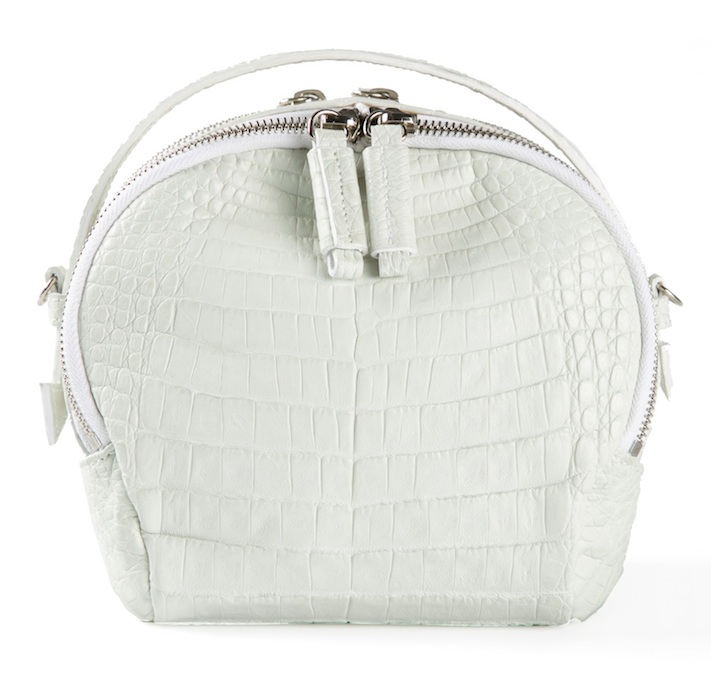 The petite little shape of this bag makes it the most adorable thing I've ever seen. But for a novelty piece, I don't need it to come in crocodile. Let me rephrase that, rather: I don't want to pay the high price of croc for a fun, lighthearted bag that clearly doesn't warrant an investment-level price tag.
But that doesn't make me love it any less! (It just means I'm not going to buy it, and I have a hunch most Snobs will feel the same way.) Italian shoe label Alexa Wagner has translated their elegant-meets-cool aesthetic to a double-zippered mini-bag curved and rounded to perfection. Contrary to what you might think, round silhouettes are actually very functional and surprisingly roomy. While there's a skinny chain-strap option, this curvy little bag is best used with the top handle, as opposed to the long strap. Otherwise, it looks like you're playing tether ball, and that's not too chic at all. Alexa Wagner Bauletto Handbag on Farfetch for $6,300:
Pair with: Dark, inky blue would make a great contrast for this creamy white bag. Miu Miu's seriously strappy asymmetrical sandals pack high style and solid height. At Barneys New York for $890.