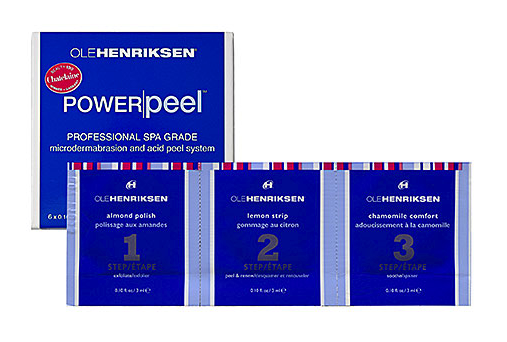 After trying and loving Ole Henriksen's Lemon Strip Flash Peel in April, I moved on to bigger and somehow even better things – the Power Peel. The wrinkle and pore minimization system was inspired by the most popular treatment at Ole's Hollywood Spa and within the last month, it's turned into my main obsession. Plus, since the kit comes in travel-friendly packets, I was able to bring it to NYC with me this week!
The process involves three easy steps – the exfoliating almond polish, Lemon Strip peel, and Chamomile Comfort mask. First you massage the scrub (made of oat kernel, bamboo stem powder, honey, orange peel, and almond extract) into your skin for two minutes to remove dead skin cells, then you apply the extremely powerful, professional grade Lemon Strip peel to support the turnover of new cells. With a 20% AHA complex of glycolic, lactic, and fruit acids, you feel the burn immediately. After another two minutes, mask the pain – literally – by smoothing the Chamomile Comfort clay mask on top of the peel. This keeps skin cool while the Lemon Strip does its work underneath.
Give it fifteen minutes, then clear everything off using the included sponge (I love this so much I've been using it for daily cleansing!). You'll be left feeling like you just got a facial. I'm even skipping mine this month since weekly use of this system has given me smooth, clear skin. There's not a bump around my chin or forehead to be seen! With all the gunk of summer sweat and sunscreen, this is just what you need to keep pores from clogging. Remember, though, this is microdermabrasion and an acid peel, so don't skimp on sunscreen, even indoors. Get the six-pack, or if you're feeling skeptical, start with the two-pack! Ole Henriksen Power Peel professional spa grade kit available at Sephora for $16 (two treatments) and $45 (six treatments).