The transition from spring to summer can be difficult, especially for go-getters like myself who want to break out the shorts and sandals on the first quasi-warm March day. My fellow New Yorkers and I are lucky to have consistently warm weather come June, but natives of the UK like singer Pixie Lott are still struggling with average temps in the mid 50s—yikes! She indulges her craving for summer style by carrying a baby blue Marks & Spencer crossbody bag. The pastel color screams "weekend at the shore," but the smaller size makes it subtle enough to pair with a chunky knit and leggings on the chilly streets of Manchester.
Pixie customized this bag herself by adding the fluffy pom-poms to the front clasps. Though they're at first glance reminiscent of Troll Dolls (if you don't know, now you know) and though I am usually drawn to more clean cut bags, Pixie's otherwise simple ensemble and funky personality allow her to pull off the fluffy add-ons nicely. Her customized creation is not for sale, but you can get the original Best of British leather twin buckle satchel bag at Marks & Spencer for $406.50.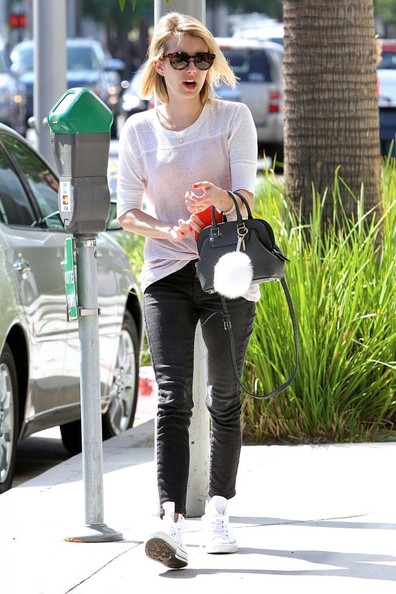 Emma Roberts has also been seen sporting pom-poms. You tell us — are the cheerleader accents Snob or Slob?