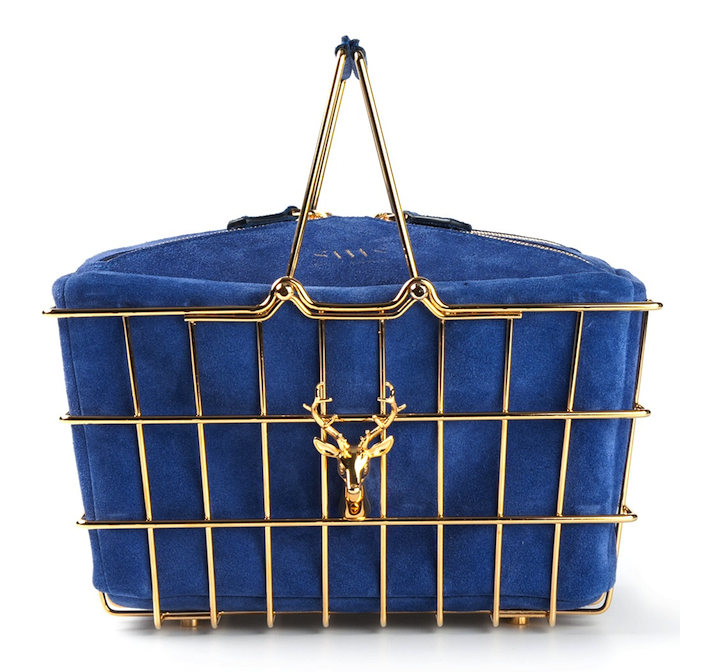 This piece speaks to my heart. When I bought my bicycle, the basket that went on the front was actually a major factor in my decision-making process. I had to make sure the bike could hold the exact basket I wanted – it's the best part of the bike!
So it's only natural that there's something about Savas' Caroline bicycle basket that makes me feel instantly comforted, like I'm about to embark on a summer adventure, with everything I need for it right in my basket. And that's really how we feel about our bags. As we leave home for the day, evening, or a trip, they make us feel assured all of our needs can be met thanks to what our bag is holding for us.
That's why there's no need to speak of pragmatism – or lack thereof – here. This satisfies a purely emotional desire. It's an adorable 18-karat gold-plated basket, topped with a deer head (for an element of naturalism) and a plush suede case (which opens up very much like a Chinese take-out box). It might sound ultimately useless, aside from making you happy, but it isn't entirely dysfunctional. The basket still holds plenty and functions like any top-handle bag. The price, however, is hard to justify for such a novelty find. But still, the heart wants what it wants! Savas Caroline bicycle basket on Farfetch for $1,281.
Pair with: A pair of pedal-friendly flats suits the easy, whimsical mood. Loewe's textured-leather espadrilles come in an uplifting mix of searing orange leather, green stitching, and a cobalt sole. On NET-A-PORTER for $400.