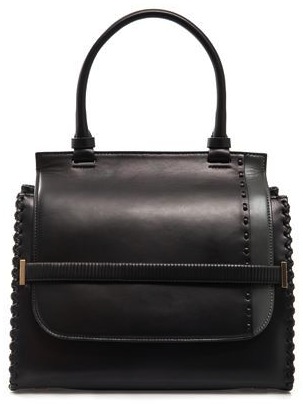 This bag is simply just amazing. This is a rather pared-down shape finished off along the edges with what, at first glance, looks like typical embellishments, but on closer inspection, it's actually distinctive stitching. And that makes the bag so much better, not to mention organic and all-natural in feel. Count on The Row to leave no detail unturned – or as acute and top-notch as possible.
Polished black calf leather in a timeless, boxy silhouette with a top-handle that can also rest on the shoulder adds up to instant sophistication. Then perfectly crafted hand-stitching brings just enough texture and instant intrigue into the elegant mix. Details like this make for a sense of free-spirited ease, an ingenius juxtaposition for a classic bag. I love the consistent aesthetic The Row delivers: they never fail to produce styles that are both understated and statement-worthy in equally high measures. The Row Top Handle Bag on MATCHESFASHION.COM for $3,450.
Pair with: This isn't to say I can't appreciate a good sprinkling of embellishments. Contrast delicate whipstitching with Nicholas Kirkwood's black suede sandals, adorned with gold-set black crystals for an injection of dark glamour. On NET-A-PORTER
for $1,195.