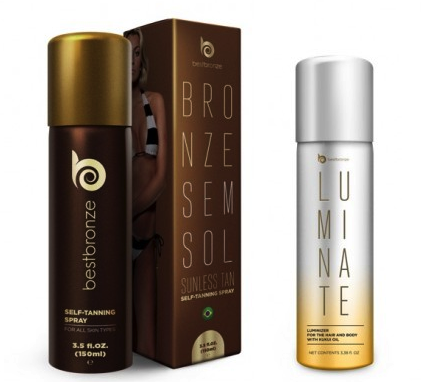 I've spent my entire life chasing the perfect tan. Growing up in a typical Chinese household, I was told to never get dark. White skin is a sign of beauty…yada yada yada. The women in my family had lily pale skin that they protected by never walking in the sun without a Sunbrella or hat, and never, ever going to the beach before sundown. But my rebellious nature prevented me from following suit. What can I say? I was an impressionable '80s tween, worshipping at the altar of Bain de Soleil ads.
In junior high school I was burning my skin to a crisp "laying out" with baby oil poolside, beachside, and sometimes roof side (My 13-year-old bestie convinced me the sun was stronger on her rooftop, and we would often sneak up there to tan when her parents weren't home. Ahhh, the foolishness of youth!). By high school I had moved on to regular tanning salon sessions. I was so dark that people often mistook me for just about every other race but my own. Things changed the summer before college, though. When I discovered a strange growth on my back, I had it removed immediately and was told by my doctor to stop tanning ASAP. Since then I've been very careful about sun exposure. In college I decided my grandmother was right after all (that and it was the '90s, the era of grunge chic paleness). The only tanning I indulged in was under an umbrella, with a hat, slathered in sunscreen, and only from the waist down.
But the itch to have bronzed skin never really left me. When I realized I could tan safely with the help of self-tanners, I was on it. Never mind that they smelled disgusting and sometimes streaked and made me look crazy. I was determined to glow. I spent a lot of time trying out different DIY self-tanning creams, even though the result was always the same – orange palms and uneven tones. Then, five years ago, I returned to tanning salons. Not for the damaging tanning beds, but for the spray booths that had become all the rage. While this worked for a year or two, I ended up quitting due to my travel schedule and the difficulty of making appointments that I usually didn't keep. The market was flooded with at-home spray tans, so I began researching and tried everything from drugstore to department store brands. Some worked well…if you didn't mind the smell!
After what's essentially been a lifetime of searching, I've finally found a self-tanner that works for both my skin and my busy lifestyle. Best Bronze Self-Tanning Spray: the best thing to come from Brazil since the thong bikini! I'd never heard of it either before I was sent a bottle (the brand is launching in the US this month), but it's long been a favorite of all the Brazilian supermodels whose tans we've coveted. They're certainly not going to risk damaging their perfect skin under harsh rays. Why would you?
The product is super simple to use and if you follow the instructions to the letter, it works better than anything I've ever tried at home. It also comes with a pair of disposable gloves so your hands are spared the telltale orange "glow." The instructions are simple:
1. Shower and exfoliate, especially the knees and elbows. No lotion afterwards.
2. Wait an hour after showering, allowing skin to return to its natural pH levels, which permit maximum absorption.
3. I wear my bikini when I spray tan since it gives natural tan lines and I know where to stop. Put on disposable gloves and spray the tanner about 8 inches away from the skin. I only spray my legs, arms, chest, belly, and back (I use a bronzing powder for my face and neck). Don't spray tanner onto feet or hands directly. Just rub the excess from your gloves onto the top of them.
4. Wash the hands thoroughly and wait three to five minutes before getting dressed.
I like to watch a movie around bedtime to let the tanner set, but it's not really necessary. It's best to do this before going to sleep, though, as you don't want to sweat or get the skin wet for at least eight hours (the tanner would wipe off). When I wake up, I'm freshly tanned and also free from the weird odor that most fake bakes come with. There's a slight scent but nothing unpleasant, and the color is as natural as if I'd "laid out" in the sun all day. I've used this three times in two weeks now and have yet to see any streaks on my sheets. In fact, the hubby has no idea why I wake up tan. There's also an Illuminator that I use to hydrate my skin and hair after applying the Best Bronze tanner. I'm completely addicted to this. It enhances radiance, and thanks to Kukui oil (an anti-inflammatory oil from Hawaii) and Vitamins A, C, and E, my skin is soft.
I cannot stress how harmful it is to continue tanning in the sun for prolonged periods. Not only is skin cancer a huge concern but wrinkles are as well! I mean how frightening is the lady in There's Something About Mary with her wrinkled and leathery skin? A lifetime of sun worship is not worth it. Get Best Bronze Self-Tanning Spray ($54.99) and Luminate Illuminate Shimmer ($46) here!
This is my idea of a great summer night at home. Put on your skimpiest bikini (I don't like spray tanning in the nude), spray on self-tanner, grab a bottle of wine, and watch Sex and the City DVDs while you turn a heavenly shade of bronze. Sunglasses are optional ; )