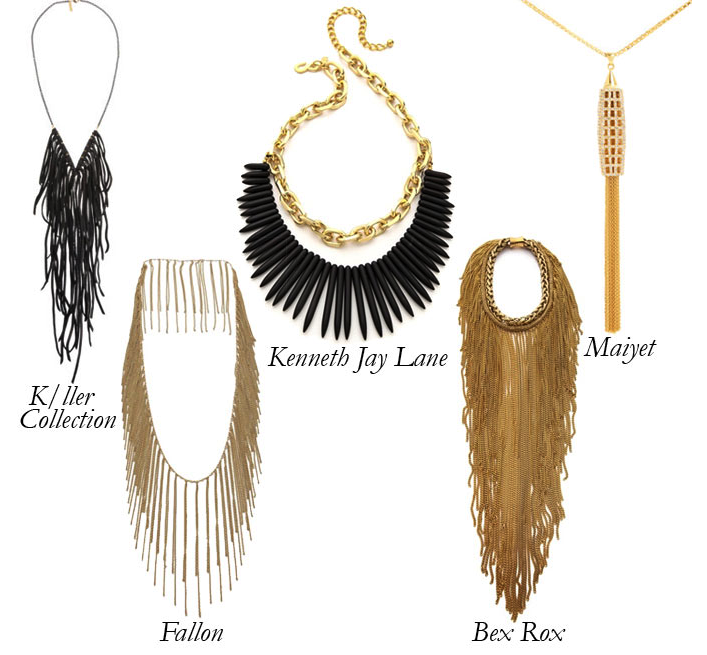 Fringe bags are having a moment, but that's too much of a commitment for me (not to mention, they're rarely done well). I prefer to approach the look from a different angle – through jewelry! The trend will be transitioning into fall, and with all of these gold tones, you're bound to find a necklace that will fit right in during the holidays. Besides, fringe is more fun in dress or jewel form than it is on a bag – it gives you a better opportunity for movement and razzle-dazzle!
K/ller Collection Brass Quill V Leather Fringe Necklace:
This brand's use of Eolithic materials lends the leather and chain piece an almost tribal feel. At Barneys New York for $340.
Fallon Jewelry Classique Fringe Necklace: Fallon's usual mentality of go big or go home is on full display. On Shopbop for $250.
Kenneth Jay Lane Stone Fringe Chain Necklace: A hefty accessory need not require a hefty price tag! On Shopbop for $100.
Bex Rox Massai Long Chain Necklace: You might need to do some neck exercises before slipping this on, but this bold collar (made by local craftsmen in Nairobi) is well worth the effort. On Shopbop for $1,620.50 (from $2,315).
Maiyet Diamond & Gold Cage Pendant Necklace:
Boho fringe? Not so much! Maiyet proves that the style can be just as sophisticated as it can be cool. At Barneys New York for $12,500.