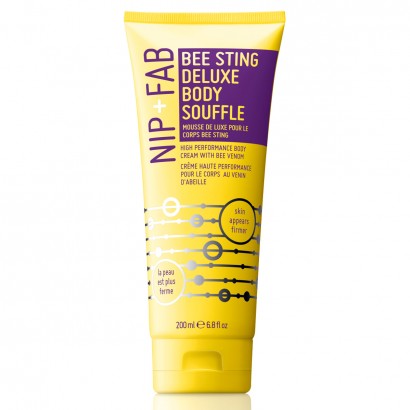 After body wash, body moisturizer is about as low maintenance as any product you apply to your skin gets. The most important factors are that it smells good, absorbs quickly, moisturizes effectively, and doesn't break the bank (at least I don't want to spend the bulk of my beauty budget on either body cream or body moisturizer). That said I also am a packaging Snob because my counter space is wide open, meaning everything is on full display – so the product has to look as great as it functions. Enter Nip + Fab, my favorite frugal brand along with the Yes to ones (their quality to price ratio can't be beat in my opinion). They just launched four fantastic new body products all priced between $9.99 and $12.99.
Hyaluronic Fix Body Gel:
A fast-absorbing and lightweight moisturizer formulated with hyaluronic acid, aloe vera, and vitamin E (good for summer/warm weather).
Bee Sting Fix Body Soufflé:
This is a rich body cream made with beeswax, shea butter, and honey (good for winter).
Viper Venom Body Serum:
I'm kind of obsessed with this one. It's called a serum, but it's really more a lightweight moisturizing cream to me. It has a subtle fresh scent that I love and it absorbs quickly. While I luckily don't have body wrinkles, it's also formulated with skin smoothing ingredients. Though I wouldn't count on this getting rid of any lines, for $9.99 there are way more actives than you could hope for.
Glycolic Fix Body Cream:
A moisturizing lotion designed specifically for flaky and/or oily skin. This is also great for people with breakouts because it has glycolic, salicylic, and lactic acids so it not only exfoliates flakes, but helps treat and prevent breakouts.