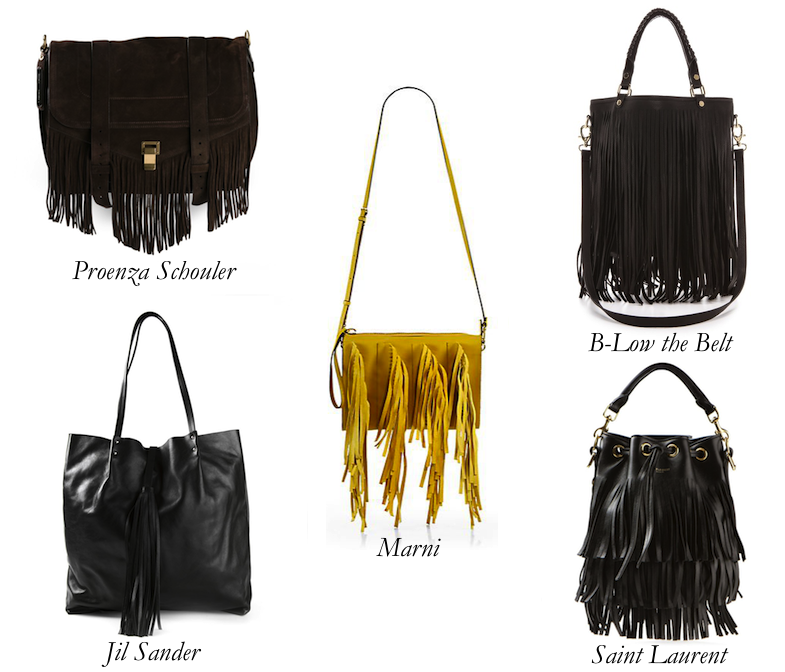 When it comes to fringe, there's a fine line. Everyone is doing it now, and you can always bet designs run the gamut from good taste to bad form to just plain ugly looks. Here's a roundup featuring a little bit of everything from each end of the fringe spectrum. Shaggy or chic, sloppy or sublime: this season, choose your fringe wisely.
1. Proenza Schouler PS1 Runner Fringe Satchel: By the addition of fringe to an existing style, the quintessential PS1 satchel receives a breezy, swaying makeover. This gives a mere nod to the trend without completely succumbing to it – these are the most successful pieces. On Farfetch for $1,885.
2. B-Low The Belt Twiggy Fringe Handbag: On the other hand, this structured-meets-saggy number is completely consumed by it. You never want your fringe to swallow your bag whole. It loses meaning and the effect is ruined. On Shopbop for $429.
3. Marni Fringe Leather Clutch: When a bag just makes you go, "Huh?!" you know it's just a big old mess. This quartet of fringe resembles more of an ill-conceived (and poorly executed) mistake than the dazzling embellishment it was intended to be. At Saks Fifth Avenue for $1,255.
4. Jil Sander Tassel Shopper Tote: Fringe that arrives in the form of a large tassel is good to me. Not only is the vivacious element isolated, it also comes with the option to remove when you grow tired of it. On Farfetch for $995.
5. Saint Laurent Fringed Buckle Bag: The same goes for Saint Laurent's fringe-inspired bucket bag. It's an homage, not an all-out commitment. Wear this one over the shoulder for an easy, off-day, and yes, vaguely bohemian effect. On Farfetch for $1,963.