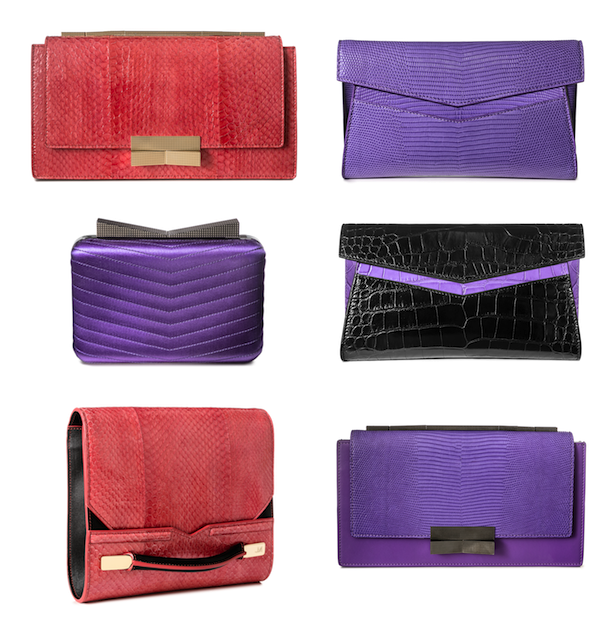 There are moments when the right color selection is all it takes to take a collection from cool enough to outright covetable. Especially when it comes to the Resort season. J. Mendel's latest strikes just the right balance of putting a spotlight on their trademark precious exotics, strong structuring that's designed for real life, and a Resort-worthy palette of perfectly hyperactive electric purple and flaming hot coral.
Python flap-front clutches, some as envelopes and others with J. Mendel's subtle yet striking bow-inspiring closure, are for the classic woman who wants a stiff shot of color come next season, while I'm liking the nuanced way with colorblocking on the croc clutches. But it's the squared-off silhouette that makes for the most interesting bag by far: not only is it a reverse flap (with it tucking into the base of the bag), but it features a sporty handle that speaks of comfortable carrying all night long. And yes, in case the high-impact colors didn't drop you a hint, you will be taking these clutches out for a hot night on the town.
J. Mendel Coral/Gold Elaphe Melodie Clutch ($2,500), Violet/Dark Gunmetal Lizard Messager Envelope Clutch ($2,200), Coral/Gold Elaphe Midi Clutch ($2,400), and Violet/Dark Gunmetal Lizard Melodie Clutch ($4,200) to be available at J. Mendel.