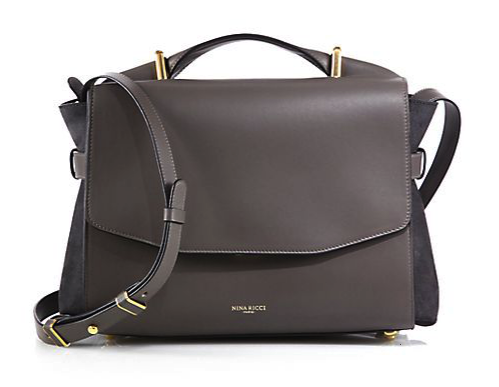 Nina Ricci is on a roll, and as for their latest, I am loving this easy-to-incorporate-into-your-life satchel! There's nothing amiss here; it has all the features that make up an ideal everyday bag, from the removable, adjustable shoulder strap to the dirt-disguising color to the easy interior design (including two organizational pockets, as well as a zip pocket on the outside).
But it's the detailing on the handle that makes the Lutece convertible messenger intriguing. Sculptural and uncommon, it twists up in a way you would not expect, though it still ends up totally flat along the top for ultimate usability. It's novelty that doesn't compromise function, aka the best kind.
That smart top handle allows for dainty day looks, while you can wear the long strap crossbody for an instant sense of sportiness – without giving up femininity (as many messenger bags force you to do). The lengthy strap can be hidden inside so it doesn't distract from the overall effect when you carry it by the top handle.
And the overall effect is perfect: suede gussets offer softness, while stone gray falls into the most stellar category of cool neutral shades. Nina Ricci bag at Saks Fifth Avenue for $1,650.
Pair with: Keep your look fresh all day long with the help of Lipstick Queen's double-duty compact. Open Secret, a bright rosy hue, delivers an instant glow to lips and cheeks. At Barneys New York for $24.