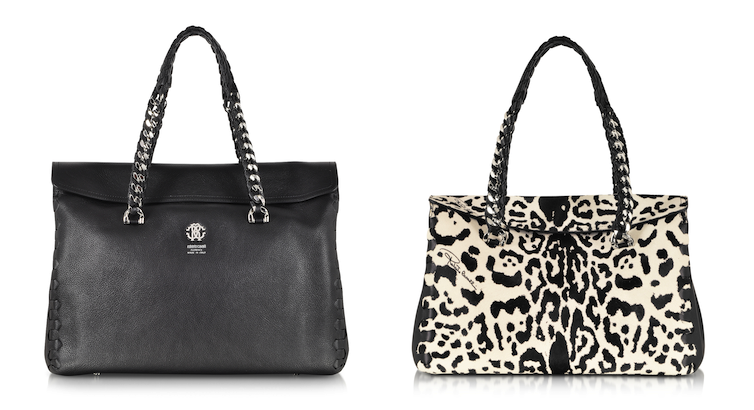 It would be an understatement to say that Florence-born Roberto Cavalli has a "more is more" mentality. But that doesn't necessarily mean he always has to go all out with sexy accents, exotic prints, and a distinctively Euro sense of joie de vivre. Sometimes he delivers just the right portions of his trademark factors. Like right now. I love this bag!
This isn't just about flash and fun; the inlaid, partial-chain handles maximize comfort and showcase gorgeous hardware, and the wide rectangular shape is great for everyday. A second attention-grabbing detail is delivered along the sides, with a sick, jigsaw-like seam. The key to the visual success of this satchel: it confidently says, "notice me" without screaming it.
Plain black leather feels just spot-on to me, since there is already a lot going on (certainly enough to keep you interested), but for the girl who wants more – and who's after Cavalli's own heart – black and white leopard
definitely delivers. Regina medium leather satchel, $2,310, and Regina small animal-print leather satchel, $2,035, are available on Forzieri.
Pair with: Vamp it up without tripping up in Aquazzura's Beverly Hills sandal. With cutouts, lacing, and a three-inch heel, it's undeniably sexy without going over the top. At Barneys New York for $745.