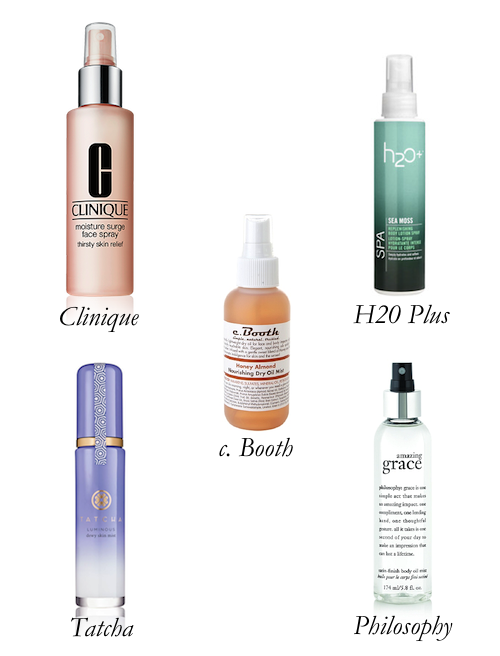 If you're a lazy Snob or busy Snob (or just a Beauty Snob in general), you'll appreciate this roundup. Everyday feels like a race to the finish line for me, and to keep up, I often find myself prioritizing the care of my face over that my body. Since I've discovered spray-on moisturizer, though, I've realized that it doesn't have to be one over the other. It takes a lot more time to fully moisturize the body with a cream, but with one of these body sprays, all you need are seconds. As an added bonus, you don't get your hands greasy – or in turn, your bags!
Clinique Moisture Surge Face Spray:
Clinique's is formulated for the face, so there are no oils – only aloe. At Clinique for $22.
H20 Plus Sea Moss Replenishing Body Lotion Spray:
A brand built on the use of marine ingredients, H2O Plus scents their spray with fresh water lily and moisturizes with the help of Spirulina. On beauty.com for $19.50.
c. Booth Honey Almond Nourishing Dry Oil Mist:
I travel with this lightweight mist all summer long. After a long day in the sun, a nice spritz is beyond relaxing! On drugstore.com for $5.89.
Tatcha Luminous Dewy Skin Mist:
This stuff is seriously like liquid gold. It gives your skin a dewy look and butter soft feel. Available at Tatcha for $48.
Philosophy Amazing Grace Satin-Finish Body Oil Mist:
A lightly scented mist that nourishes skin with natural sunflower and olive oils. On drugstore.com for $26.