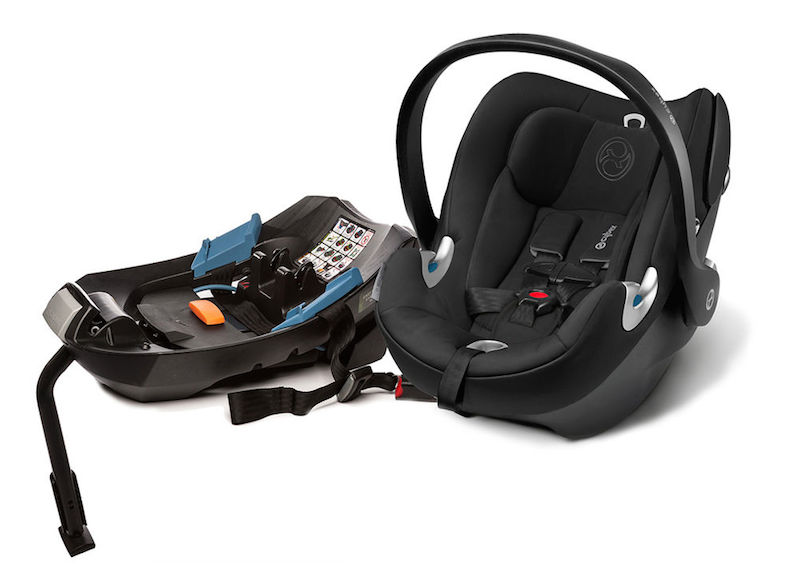 It's been years since I've needed to shop for a new car seat, but when I saw all of the innovative features on Cybex's latest model – the Aton Q – I knew I needed to research and share. My oldest girl is only nine, but technology has changed the safety and comfort of these so much in that short time! First of all, this has a telescopic Linear Side-Impact Protection System. This is an impact arm that pulls out from the side of the seat, extending to the door. God forbid you experience a side impact collision, this will absorb most of the force, as will the seat's energy absorbing shell.
Then there's the non-threading belt adjustment. This may not seem that important to the uninitiated, but believe me, it is so important it is life-changing. Without it, you need to take the whole seat apart, and put it back together remembering where each thread goes. If you don't, you'll be left with a seemingly unsolvable puzzle. I've been there, done that, and ended up with an unused car seat – and frustration you don't have the time or energy for.
The Aton Q seat can be readjusted into eight different positions, offering ergonomic comfort for each stage of development. Before, you would have to buy new seats for such perfect positioning! This is truly the smartest system I've ever seen. You control the adjustment with just one single latch that will move the height of the belt, the headrest, and everything else to just the right spots. For newborns, you can lay the seat almost flat, allowing them neck support and the best angle for breathing (regular seats use pillows to compensate for the neck rolling forward – or they offer no help at all!). As your tot grows, you can position the seat more upright. This is a major plus if you have any visiting babies whose needs are different than your own child's. The thought alone of readjusting a normal seat can cause a serious brain melt!
Another plus is the built-in, foldaway SPF 50 sunshade. It's large enough to cover the length of the seat, which is so useful when your baby is on the sun side of the car during a long drive. The only downside (and a strange oversight on Cybex's part) is that while the new Q comes in Autumn Gold, Charcoal, Storm Cloud, Ocean, and Lollipop, since all of the canopies are color-coordinated with the seat colors, the Charcoal and Storm Cloud have dark covers that can add heat on an already warm day. Also, if you live in a hot climate, all of the insulating padding could overheat the baby. Make sure your AC is adjusted to an appropriate temperature to keep your little one comfortable. You won't be able to do that when you're out and about on a stroll, though. When he's old enough, switch to a stroller to resolve this issue.
The fabric isn't removable, but honestly, I don't know anyone who washes theirs covers, even if they are removable. You could spot clean if you wanted. Truth be told, though, it might just be best to accept that the seat is and always will be disgusting. The more important thing is safety. While this chair is meant to be secured using the car's seat belt, I also recommend getting a base ($160) for added safety and convenience. The Belt Tensioning Device makes installing as easy as can be with just a click into the LATCH system in your car. The telescopic leg will support the seat to the floor of the vehicle, another safety innovation that you won't find elsewhere. This is the most important gear you will buy for your baby, so it's worth spending a little extra! Cybex Aton Q infant car seat on giggle for $350.