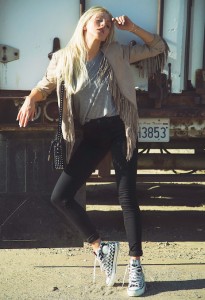 My style inspiration of the day is Shae Marie's easy, breezy travel outfit. On Peace Love Shea.
Looking for something a little more special than a basic bag? Elle has all the goodies you need to satisfy your craving for luxury!
A very Man Repeller take on packing for a Labor Day Weekend excursion.
Scarlett Johansson's new politically-inclined tee-shirts: Snob or Slob? On The Cut.
Confused about NYFW 2014? Like why it's so freaking early this year? Style.com has the answers.
Photo Credit: Peace Love Shea