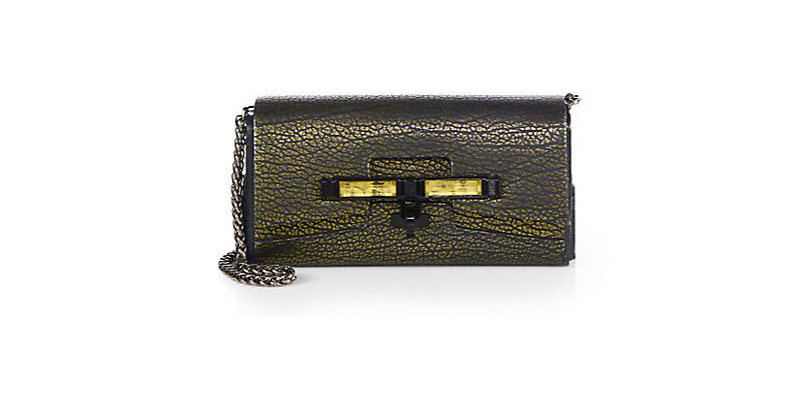 Kara's got a brand-new look, and I'm liking it. The precious-stone master is changing things up, and the result is a decidedly more modern and rustic-luxe vibe. This clutch still has the decadent feel of the luxurious jewel-accented bags for which Kara Ross is best known, but the pared-down feel welcomes added versatility and is way more youthful in spirit.
In crackly, metallic leather, this is a piece that will transition equally easily from day to night and summer to fall, and with a removable shoulder strap in just-a-touch tough silver chain links, this is far from your ordinary fancy evening bag. Plus, a structured gusset creates a box-like interior, so it will also fit more than your average clutch. Faceted resin stones keep the designer's signature accents in tact, and there's no denying these details are subtle and timeless. Finally, bronze is so perfect for holiday, so this will transition through many seasons making it a great buy from every angle. At Saks Fifth Avenue
for $1,660.
Pair with: Texture on texture, anyone? Throw Lanvin's light-gray elaphe ankle boots into the mix for a mesmerizing take on subdued chic. On NET-A-PORTER
for $1,390.