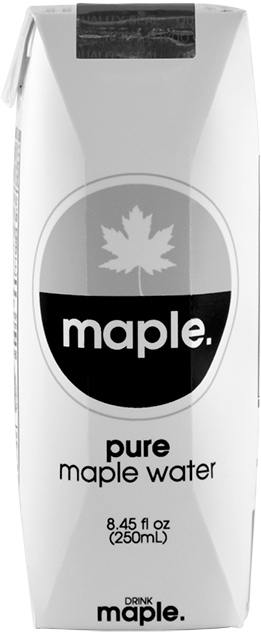 Way back when I had no concept of what a calorie was I used to DRINK Vermont Maple Syrup…like straight out of the bottle. Tina was a little more sophisticated than I was…she would mix maple syrup with snow, which is kind of, sort of what the new trend to hit retail shelves in the U.S. is – maple water. One brand in particular, DRINKmaple, has come out on the forefront of this trend and is poised to give coconut water a run for its money since beyond acting as a refreshing drink, maple water can increase your metabolism with its large amount of manganese as well as act as an anti-inflammatory given its high level of polyphenols (making it a great workout recovery choice). Maple water is also naturally loaded with electrolytes, it's naturally low in sugar, and it's loaded with various antioxidants.
Keep in mind though that maple water is nothing like maple syrup. It's made from pure sap from maple trees, which has a water, not sticky, consistency (it takes dozens of gallons of maple water to get a single gallon of syrup, which is why the sugar content is so much lower for maple water – only about 4 grams per serving). With less sugar than most coconut waters, plenty of health benefits, and a refreshing, subtly sweet taste, there's little doubt that we will be seeing more and more bottles and cartons of maple water hitting shelves.
Have you tried maple water yet?