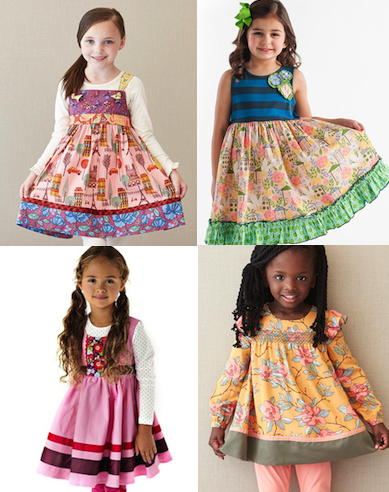 When the time comes to buy new wardrobes for your tots, you want to look for unique pieces that will show off their one-of-a-kind personalities. Don't get me wrong – my girls get all of their basics from the Gap. But when the first day of school rolls around, kids don't want to blend in with the rest of their class. They want to stand out! Let them shine while staying comfortable in Matilda Jane. I love this brand for the amazingly individual feel and incredible price points. Available on Matilda Jane Clothing.
City of Lights Knot Dress ($56): Girls love Paris – even before they've visited! Let them fantasize about their first trips to the City of Lights with this whimsically-printed dress.
Little House Tank Dress ($52): For mini fashion risk-takers, mixing prints is a must.
Calypso Dress ($58): This one's a no-brainer. What little lady doesn't love pink?
Cascading Roses Peasant Dress ($54): There's something unbelievably sweet and endearing about girls in florals.