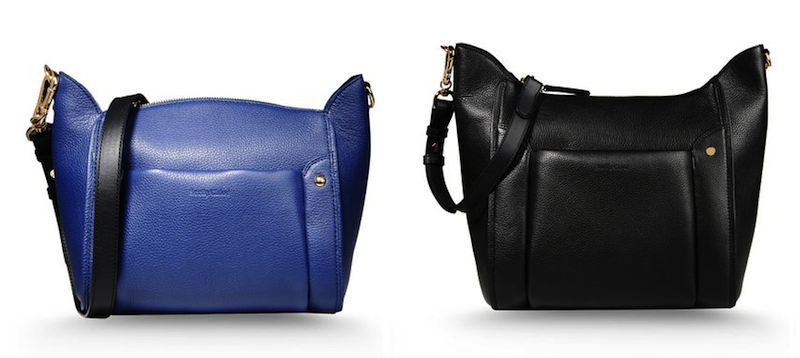 Hello, See by Chloé! Here is such a cute unique shape that works as a daily basic, no overthinking required. Whether you have slightly more minimal everyday packing needs and a penchant for punchy (but still highly versatile) color or you prefer a supremely neutral bag that can hold everything and then some, they've covered the bases with this style. In medium-sized cobalt blue, it's a cute shoulder bag with a contrasting strap for extra punctuation. In full-sized black-on-black, this is a practical as it gets, with a down-to-earth price tag to match.
Actually, both are priced very pragmatically. Extra points for the easy-access front pocket and the all-around offbeat (but not over-the-top) shape. Obviously, I'm all about the blue version, simply for the power of color. It's always nice to have something uplifting to look at and use, even if you're just experiencing an average day. That's why we look to fashion: to give us some spice in our life, an instant of excitement in our day, no matter what else is going on – or not going on, for that matter. See by Chloé leather bag available in medium blue leather
, $395, and large black leather
, $425, on thecorner.com.
Pair with: Maybe the black ankle boot isn't the most exciting breed of shoe out there, but you can still never have enough. Add Thakoon Addition's buckled-up and shearling-lined pair to your wardrobe; they have the details to get you going. On Shopbop for $475.