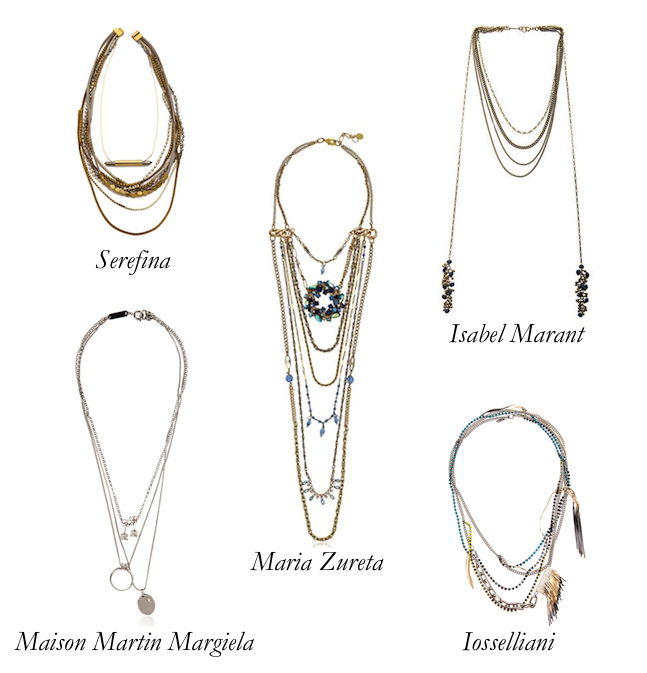 Sometimes I like jewelry to be delicate and simple, but most of the time, I'm looking to indulge in the bold, oversized variety. Pieces like these can turn even the most dressed-down of outfits into looks bursting with personality – and all with the mere clip of a clasp. With so many abundant chain necklaces to choose from this season, the hardest part will also the most fun – shopping for and narrowing down the list!
Serefina Beaded Layer Pyrite Set Necklace: Serefina, a brand inspired by Southeast Asian arts and crafts, hand makes their jewelry with recycled materials like this faceted pyrite. On Shopbop for $160.
Isabel Marant Polly Multi-Chain Necklace:
If all of the crystal and feather embellishments on her clothes weren't indication enough, Isabel Marant is no stranger to accessorizing in excess. On MATCHESFASHION.com for $295.
Maria Zureta Blue & Gold Chain Necklace: Necklace is not even the word. Extending past the waist, this piece is more like a body jewel. Just imagine is over a basic white tee. On Luisa via Roma for $538.
Maison Martin Margiela Triple Chain Necklace with Pendants: At MMM, earrings don't necessarily belong on ears and rings don't belong on fingers – they're strung on necklaces! On Luisa via Roma for $595.
Iosselliani Long Fringed Necklace:
Fringed bags have been having a moment. Why not bring the swing and swish to jewels, as well? On Farfetch for $634.02.