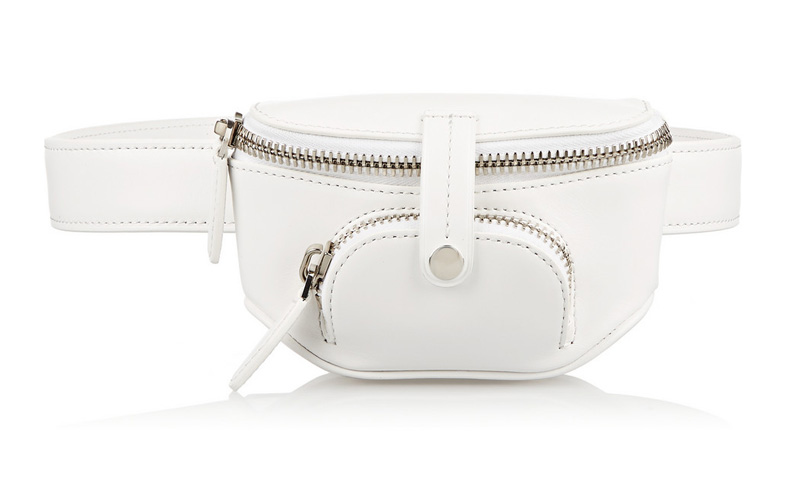 It seems like the belt bag keeps trying to make a comeback. Actually, it seems like it's been trying to make a proper renaissance for ages, but it still has yet to gain any legitimate traction. I want the belt bag to be back in full swing because what could be better when you truly need a hands-free day? If there's anyone who can successfully make the ultimate in convenient, get-up-and-go style a "thing" again, it's one young Alexander Wang.
The biggest problem when it comes to belt bags is the fact that they're unflattering, as they instantly add heft to your midsection; nobody wants that. This punchy little number, on the other hand, is so bulky that it protrudes completely out and off your body with a sense of purpose. It becomes its own entity, rather than an extension of your form, and that makes the situation much better.
The small scale and chunky details also help, and the bright white leather pops, accentuating the full-on 3D effect, so no one is going to read this as part of your figure. The pouch can be removed from the belt and used separately, but the wide shape makes it a bit awkward to carry as a clutch. Alexander Wang Leather Belt Bag on NET-A-PORTER
for $495.
Pair with: Go all-out in Wang with his Leva leather boots. Cut out and exaggerated to dramatic proportions, they'll turn you into an instant urban warrior. At Bergdorf Goodman
for $595.