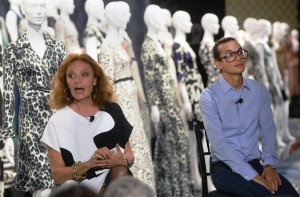 NYTimes has the inside scoop on the who's-who and the what's-what of NYFW.
Dirk Standen, Editor-In-Chief of Style.com, on The Coveteur.
10 celebrities whose signature looks we may never get sick of. On Harper's Bazaar.
Louis Vuitton and Hermès are finally taking steps to end their vicious rivalry. On BoF.
Band of Outsiders may have cancelled their NYFW show, but their Spring 2015 doesn't seem to be slacking because of it. On Fashionista.
Photo Credit: Getty Images