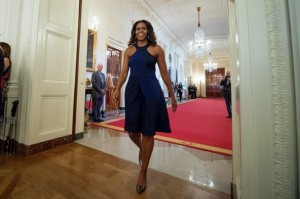 Michelle Obama to educate students about the fashion industry in White House workshop. On NY Times: On the Runway.
Apple's latest move removes any remaining doubt that the company is promoting the Apple Watch as a luxury fashion accessory. The Guardian.
We're all for transparency in shoe production, but is this latest trend taking that a step too far? On Forbes.
Karl Lagerfeld christens first men's boutique in Paris. On WWD.
According to Vogue, this fall's best sweaters look right at home in the stacks of an Ivy League lib.
Photo Credit: Michael Reynolds/European Pressphoto Agency