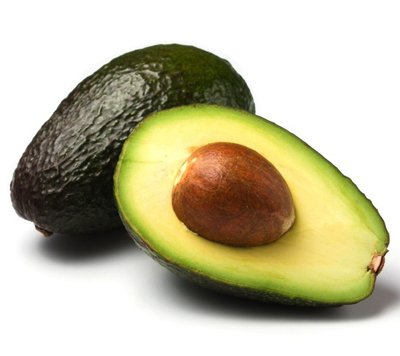 With nearly 20 vitamins and minerals in every serving, avocados are one of the healthiest foods you can eat. While most of us think of them when we're making our salads and sandwiches, they actually make a great addition to a wide range of desserts. To kick-start some culinary inspiration, four healthy chefs shared their favorite avocado recipes exclusively with us!
Chef Quinn Ventura, Pastry Chef, Blossom Du Jour
"Avocado is the perfect egg replacer in this vegan, wheat-free, 99% raw key lime pie at Blossom Du Jour restaurants. We may be replacing the egg, but the flavor is still reminiscent of the key lime pies you know and love."
Key Lime Pie w/ Avocado (vegan recipe)
Filling Ingredients:
1½ cups lime juice
1 cup brown rice syrup
½ cup coconut milk
2 ripe avocados
¼ cup vanilla extract
¼ tsp salt
1 ¼ cups coconut oil
Instructions:
Add all ingredients into a blender and process until smooth.
Crust Ingredients:
2 cups walnuts
1 cup shredded coconut
10 soaked dates (plus liquid if needed)
Instructions:
Add the ingredients into the food processor and pulse until mixture starts to come together. Press crust into a 9″ Spring form pan. Pour in filling. Refrigerate until filling sets up and becomes solid.
Chef Mark Bailey, Private Chef
"I love the creamy texture, delicious flavor and the extra potassium that avocados add to my banana milkshake. My clients love this shake for a morning, afternoon or evening pick-me-up!"
Avocado Banana Milk Shake (Serves 2)
Ingredients:
3 ripe bananas
1 cup almond milk
1/2 avocado, mashed
2 scoops vanilla ice cream
2 tsp honey
2 ice cubes
1 tsp ground cinnamon
1 tsp vanilla extract
Dash of salt
Banana slices and crushed almonds for topping
Instructions:
In a blender, combine bananas and milk. Puree until smooth. Add the following seven ingredients and continue to blend until smooth. Serve in frozen mug or glass. Top with banana and crushed nuts, if desired.
Rich Goldstein, Owner, Natural Epicurean Academy of Culinary Arts
"Natural Epicurean is a health-based culinary school, but we know people still love to indulge in sweets. With that in mind, we were inspired to give people a tropical treat they love, without all the fat and calories that usually weigh these drinks down. This fits that bill!"
Avocolada
Ingredients:
3 cups pineapple, diced
2 cups coconut water
1 avocado, peeled and pitted
2 tbsp agave nectar
3 tbsp lime juice
Note: For best results, have all ingredients well chilled
Instructions:
Place all ingredients, except for avocado, in a high speed blender. Puree until smooth. Add avocado and blend briefly to desired consistency. Serve immediately.
Cindi Avila, Well-Known Vegetarian Chef and Spokesperson for Veggie Patch
"Avocado is one of my favorite ingredients and I just love that you can use it in everything from guacamole to topping a Veggie Patch Mediterranean Patty to putting it in desserts. I love the flavor of almond too and in this pudding it turned out to be a marriage made in avocado heaven."
Avocado Almond Pudding
Ingredients:
1 avocado
1 banana
1/4 cup almond milk
1 tsp almond extract
2 tbsp agave (or maple syrup)
3 tbsp slivered almonds
Instructions:
Blend all ingredients (except slivered almonds) until smooth using a blender or food processor. If it's too thick, use a little more almond milk. Refrigerate for 30 minutes. Top with slivered almonds.